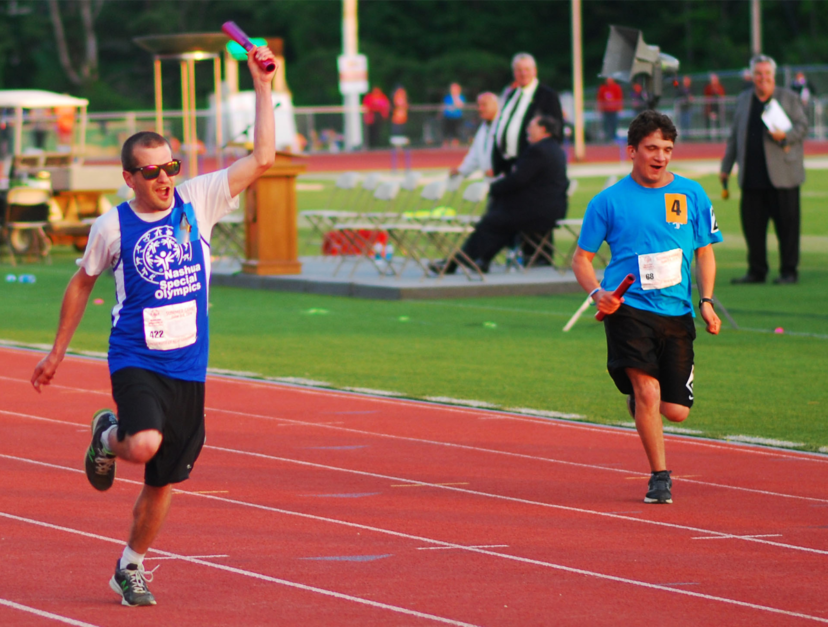 PHS' Unified Track Team Brings Joy to Many
Despite a gray and spitting sky Tuesday, Portsmouth High School hosted its first-ever unified outdoor track meet.
The school's unified sports program, which prior to this year offered basketball and soccer, joins special education students with developmental disabilities and their peers for competitive fun, exercise and bonding experiences.
Unified Sports is a joint venture that began in 2011 between Special Olympics New Hampshire and the New Hampshire Interscholastic Athletic Association to bring varsity-level unified sports to New Hampshire's high schools. Teams from schools across the state participate in sports like any other varsity-level team. They have coaches, uniforms, practices and play games each week resulting in an end-of-season championship.
PHS Unified Sports started in 2016. On Tuesday, the new outdoor track team competed against students from Raymond, Epping, Pinkerton Academy and Prospect Mountain in its home debut.
Adaptive physical education teacher and coach Nancy Moore said they have about 15 participants on this spring's track team, including 10 with developmental disabilities, and five-to-six non-disabled "partners." They had their first away meet last week, where Moore noted all of the athletes already showed improvement from their practice records.
"It's about beating your personal best, not first place," Moore said. "They get very excited the day of a track meet."
Students participate in the long jump, shot put, 100-meter dash, 200-meter dash, and 100-meter 4×4 relay.
"The best thing is not only does it give them a competitive sport to participate in, it gives them a shared experience that carries over outside of the sport," Moore said. The relationships the unified athletes make with their "partners" translates into connection inside the hallways at school, on the bus and during social outings, she said.
Student Xzavier Miller is a three-time unified athlete. "Track is my favorite sport," he said Tuesday, while Moore dubbed him a "very fast runner."
"Being positive to my teammates and helping them win" is Miller's favorite thing about his track team participation, he said.
And while the program gives athletes with disabilities an opportunity to play a varsity-level sport and represent their school with pride, it also provides the "partners" a chance to expand their world view, and learn more about their classmates they may not typically interact with throughout the school day.
"Helping out all of the unified kids is good for you and the community," said partner student Eli Vangel. "It makes the unified kids happy and you happy, too."
Partner student Zach Cromwell said playing unified track is a way for him to give back. "The looks on their faces, they're having a lot of fun," he said of his unified peers.
In addition to coaching the team, PE teacher Lauren Casimiro also runs a unified sports program during PHS' "TASQ" enrichment block during the school day. "I love this because it really highlights the athletes," she said. "They get to shine. It's really a feel-good thing. And it's a blast."
Casimiro noted it's "really nice" to be part of a community that values activities placing an emphasis on inclusion and equal opportunity.