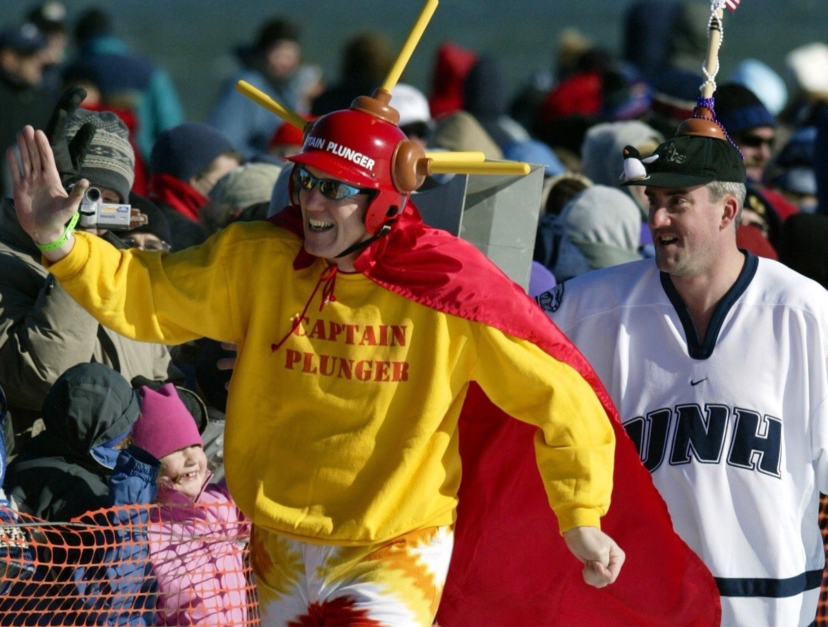 Captain Plunger: Fighting Intolerance One Icy Plunge at a Time
"It's close to thirty years. Maybe it is thirty, what's a few years between friends?" That's the best Bill Jones can do when asked how long he's been associated with Special Olympics New Hampshire (SONH). It all started at 650 Elm Street in Manchester. The same place this is being typed and uploaded, the offices of Special Olympics New Hampshire. Thirty years ago, or whatever, Bill worked for the company that owned the building. Bill was one of the individuals involved in finding our current home, but that's just one reason for SONH to be grateful to Bill.

He also served on the board of directors for six years. It was during that time that Special Olympics New Hampshire President Mary Conroy told Bill about the concept for the Penguin Plunge – people could raise money for the privilege of Plunging into the Atlantic Ocean in the middle of winter. Bill vividly recalls his insightful reaction to the idea; "That's the stupidest thing I've ever heard."

Despite his initial feelings, he and a group of co-workers formed a team and took the plunge that first year wearing hats with tiny toilet plungers glued to them. "Plungers" get it? Bill says it was the next year that he decided to attach 3 of the tiny plumber's helpers to a helmet, don a cape and some trunks and appear as nearly Avengers-worthy "Captain Plunger". Bill was disappointed that not everyone got it noting that most people called him "Captain Splash". The next year the words "Captain Plunger" were emblazoned upon the costume and have remained ever since.
Bill brought "Captain Plunger" to life for twenty years and lest you think he's not a real superhero, he raised over $101,000 for SONH in those twenty years of frigid water.

We thank you Captain Plunger. In the words of the immortal Stan Lee we say "Excelsior!"