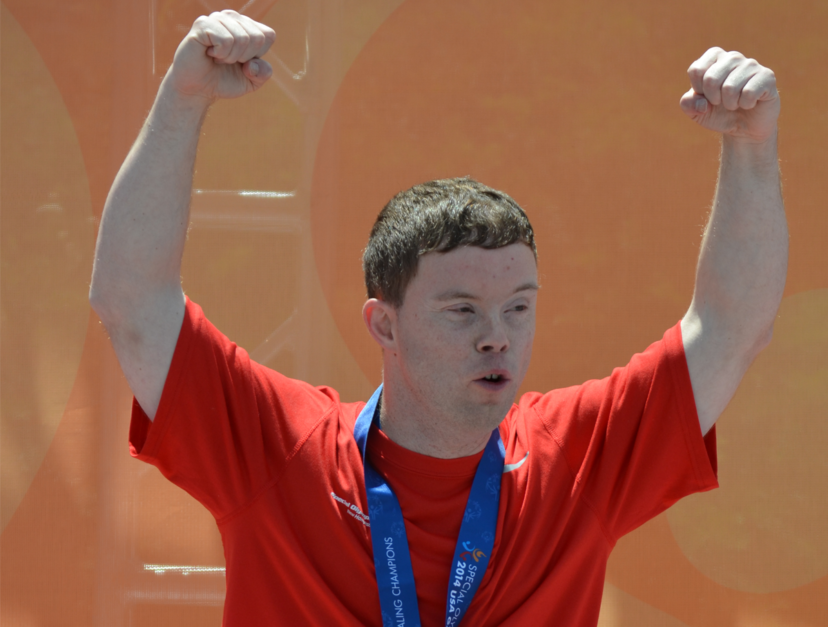 Spreading Awareness as a Global Messenger
Name: Chris Panarese
Age: 39
Hometown: Manchester
Local Program: Manchester Sharks
Sports: Athletics, Basketball, Bowling & Swimming
Chris Panarese became a Special Olympics athlete when he was just eight years old and he has never looked back. Special Olympics is a very big part of Chris' life and he has loved every minute of his time with the organization. His favorite thing about Special Olympics is having fun with his teammates, whether it is at the Summer Games or at practice, Chris loves to be around his group of friends. In addition, Chris is involved in the Global Messenger program that helps spread the message and vision as well as the benefits of participating in the Special Olympics. He has done a lot of speeches since becoming a Global Messenger and is looking forward to doing more in the future.
Chris participates in quite a number of sports, but his favorite is swimming because he has been doing it for 29 years. When he is competing Chris said, "it feels really great" and that he enjoys just getting out there and competing. His main motivations as an athlete are to simply get better and go for the gold, but most importantly it is it about having fun with everybody.
When asked what Chris' favorite moment has been with the Special Olympics he said it was competing at the 2014 Special Olympics USA Games in New Jersey. He was super excited that he got to swim at Princeton University and was proud to be selected to represent the state of New Hampshire. Chris had a lot of success at the games, bringing home four medals! It was quite an experience to remember for Chris and his family.