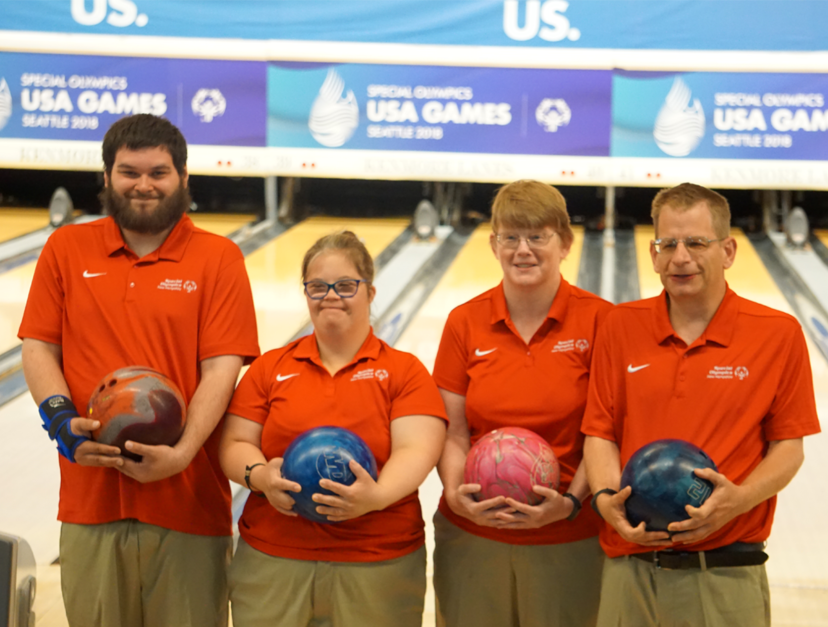 State Bowling Tournament – Everything You Need to Know
Join us as nearly 750 Special Olympics athletes go for gold in candlepin and tenpin competition on November 2, 2019. All the information you need for the State Bowling Tournament can be found below:
GENERAL INFORMATION
Rules
Please check out the rules for Bowling Ten Pin and Bowling Candlepin to have a better understanding of the sport.
Information for Local Programs
The State Bowling Tournament will offer competition in Ten Pin or Candlepin Individual competition. There is not a required Area Bowling Assessment.
To register for the State Bowling Tournament, you will use Agon. Please make sure you are familiar with the timeline below.
Sites
Address
Sport
AM/PM
Berlin Bowling
Center
283 Main St., Berlin
Ten Pin
AM (under 22);
PM (22+)
Exeter Bowling
Lanes
10 Columbus Ave.,
Exeter
Candlepin
AM/PM
Funspot
578 Endicott St.,
Laconia
Candlepin &
Ten Pin
AM
Leda Lanes
340 Amherst St.,
Nashua
Candlepin
AM/PM
Lakeside
Lanes
2171 Candia Rd.,
Manchester
Candlepin
PM
Maple Lanes
125 Maple Ave.,
Claremont
Candlepin &
Ten Pin
AM
Park Place
Lanes
16 Rockingham Rd.,
Windham
Candlepin
PM
Spare Time
216 Maple St.,
Manchester
Ten Pin
PM
Yankee Lanes
477 Park Ave., Keene
Ten Pin
PM
Contact
If you need help or have any questions about registration, which includes compliance and the registration process through Agon including intent to participate, registration and scratch, please contact Kelsey Sullivan at KelseyS@sonh.org or by phone at (603) 624-1250 ext. 31.
If you have questions about the season or event, which includes preseason conference call, coaches conference call, final information and day of questions, please contact Brandon Metevier at BrandonM@sonh.org or by phone at (603) 624-1250 x43.
EVENT INFORMATION
Competition will be offered in bowling (tenpin and candlepin) across the state as outlined in the table above.
Training is an important part of athlete growth in both skill development and overall physical fitness. Special Olympics New Hampshire expects teams to train twice a week for 10 weeks prior to the State Tournament, with one practice focusing on sport specific training and one practicing focusing on fitness (cross-training, etc.) to allow for optimal performance and readiness at the State Games.
Coaches will be contacted after registration closes if a venue change is required.
If the event is canceled, it will not be rescheduled. Head coaches will be notified via phone or email by 6am on the day of the event.
Lunch will be provided following competition for morning events and prior to competition for afternoon events.
REGISTRATION INFORMATION
Pre-Season Call
Wednesday, August 7th, 2019 at 7 pm
To access the call please dial (712) 775-7031 and at the prompt please dial 363090#
We will discuss:
The season
Events that will take place
Rules
High-level overview of the event
Intent to participate
Friday, November 30th, 2018 to Thursday, September 12th, 2019
During the Intent to Participate phase of registration, users must enter all athletes and LPVs with their role and sport in Agon.
No athlete or LPV may be added to the Games after intent closes and registration opens.
All athletes, Unified partners and LPVs must be compliant by the end of intent.
Wheelchair status for each athlete should be reviewed and updated by emailing Sara (if necessary) during intent.
Local Programs shall provide for adequate supervision and coaching for all athletes. For competition activities, a minimum ratio of four athletes-to-one LPV and/or coach (4:1 athlete-to-LPV/Coach ratio) is expected.
First Practice
Saturday, August 24th
Training is an important part of athlete growth in both skill development and overall physical fitness. Special Olympics New Hampshire expects teams to train twice a week for 10 weeks prior to the State Tournament.
Registration
Friday, September 13th to Thursday, October 3rd
During the Registration phase, users must enter specific event information (event, level, qualifying score and team) as well as meals information in Agon.
An athlete may compete in one event.
Level field must be completed to indicate if an athlete will use a ramp or not.
Qualifying scores should be entered as the sum of three strings, except bumper events which should be the sum of two strings.
No event may be added after registration closes.
Meals information may not be updated after registration closes.
Scratch
Friday, October 4th to Thursday, October 17th
During the Scratch phase of registration, users may update qualifying scores and remove athletes, LPVs, and/or their events in Agon.
Local Programs will be assessed $30 for each athlete and LPV signed up for the Tournament at the end of the scratch period.
Coaches' Webinar
Wednesday, October 23rd at 7:00pm
Please register for State Bowling Tournament Coaches Call on October 23, 2019, 7:00 PM EDT by clicking here.
After registering, you will receive a confirmation email containing information about joining the webinar.
We will discuss:
Draft final schedule
Lunch menu
Awards process
Bad weather
Final Information
Monday, October 28th
Final schedule and event information will be emailed to Local Program Coordinators and registered head coaches.