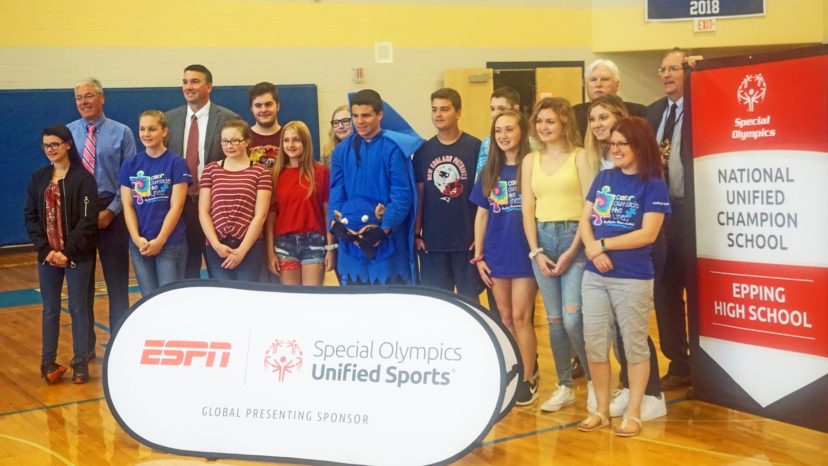 Epping High School Named A Unified Champion School
Fourth School In New Hampshire To Receive Honor
Epping, NH (September 25, 2019) – Monday morning at Epping High School kicked off with an assembly officially informing the student body that Epping High had received national recognition from Special Olympics as a Unified Champion School®. This banner recognition for a school signifies that the school has demonstrated a commitment to inclusion by meeting 10 standards of excellence that were developed by a national panel of leaders from Special Olympics and the education community. While over 70 schools in the Granite State have a Unified Sports® program, EHS is only the fourth New Hampshire school to achieve banner recognition status. The others are Alvirne High School, Dover High School and Gilford High School which received banner recognition last year.
The morning's program included information about the EHS Unified program, information about Special Olympics New Hampshire and a video replay of the ESPN broadcast that announced this year's roster of 34 schools nationwide that achieved banner status. The field of schools eligible was more than 100. A congratulatory note from U.S. Senator Maggie Hassan was read to the students. Also on hand was State Representative Mark Vallone who read a New Hampshire House of Representatives Declaration congratulating Epping High School as a Special Olympics Unified Champion School. Special Education teacher Keely Gott is the Epping High Unified Sports Coordinator.
New Hampshire is definitely a leader in Special Olympics," according to SONH board member and Chair of Development Mark Duggan who addressed the students. "Epping is a leader within not only the state of New Hampshire, but as you saw on ESPN throughout the country and that's something to be incredibly proud of." Duggan said.
About Special Olympics New Hampshire
Special Olympics New Hampshire (SONH) is an accredited program of Special Olympics International (SOI) and is part of an international global movement that unleashes the human spirit through the transformative power and joy of sports, every day around the world. We empower people with intellectual disabilities to become accepted and valued members of their communities, which leads to a more respectful and inclusive society for all. Using sports as the catalyst and programming around health and education, Special Olympics is fighting inactivity, injustice and intolerance.
FOR IMMEDIATE RELEASE
Contact: Mark Ericson
603-624-1250 Ext. 22 
MarkE@sonh.org