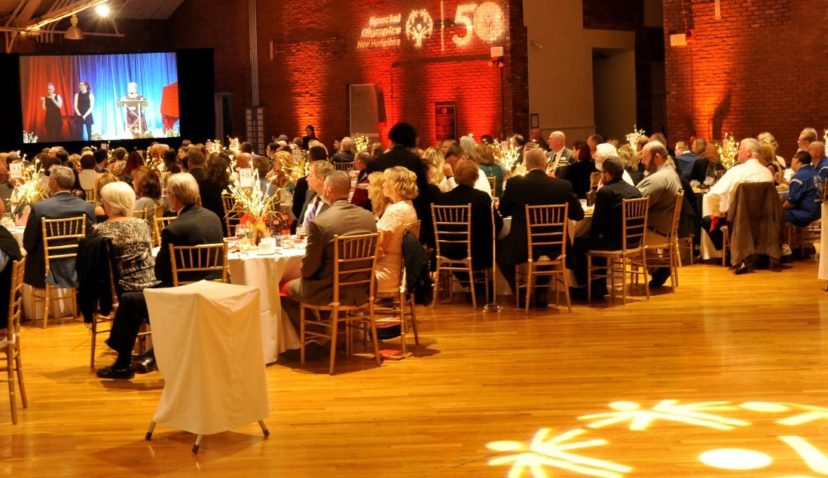 Hearts of Gold Gala
Celebrating 50 Years of Special Olympics New Hampshire
Manchester, NH (October 7, 2019) – Special Olympics New Hampshire threw a party Saturday night. SONH has been providing sports training and athletic competition for children and adults with intellectual disabilities for half a century. The event was held at the Doubletree Hotel in downtown Manchester.
The celebration was co-hosted by WMUR-TV Sports Director Jamie Staton and Special Olympics Athlete and Global Messenger Pam Langille and took place in the armory section of the hotel. Prior to the evening's program guests were invited to walk through the connected ballrooms and view the Special Olympics New Hampshire Timeline Display. The timeline included many artifacts, documents, photos, articles of clothing and other items related to the history of the organization in the Granite State. Several videos were on view around the room and those in attendance were able to see everything from photos and documents related to the first games in New Hampshire all the way up to a "North Woods Law" TV show video about the Penguin Plunge at Hampton Beach that aired in August of this year.
The program included remarks from Michael Quinn. Under various titles Quinn led Special Olympics New Hampshire from 1987 until his retirement in 2009. He related the story of a fledgling sports organization with no equipment, funds or staff to speak of, and how it became a statewide program that today serves more than 3000 athletes in all corners of the state. Currently there are 86 local programs in New Hampshire and Special Olympics can be found in 64 high schools and 19 middle schools in New Hampshire.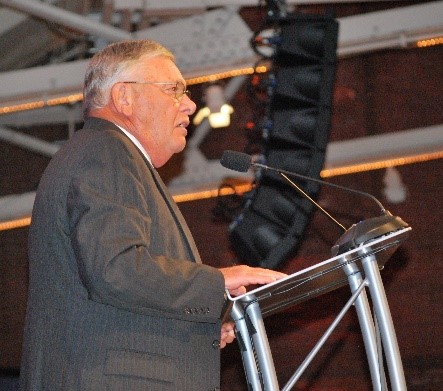 Other speakers included SONH board members as well as Maggie Kyle whose daughter Bonnie has participated in Special Olympics New Hampshire events for more than two decades. She spoke proudly of the life journey of a daughter who has persevered through challenge after challenge and with the help of family, friends and Special Olympics has grown into a woman who is happily employed, recently (a week ago) married and living her best life.
Current Special Olympics New Hampshire President and CEO Mary Conroy capped off the evening talking about the Unified Sports program. It's an inclusive program that combines high-school and middle-school students with and without Intellectual Disabilities in team sports. According to Conroy "All students with and without ID (Intellectual Disabilities), report that Unified Sports improved their confidence and self-esteem."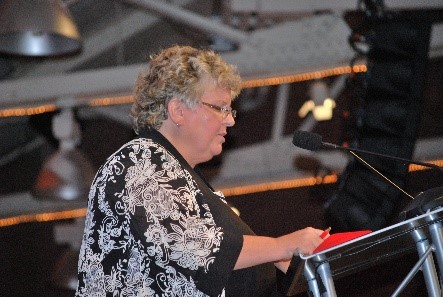 She also remarked on the Special Olympics Healthy Athletes Program explaining that it "offers free health screening and education to Special Olympics athletes in a welcoming, fun environment."
She concluded by telling the more than 500 attendees that in the next 50 years Special Olympics New Hampshire will work to change stereotypes, break down barriers and work to create a world where people are defined by their abilities, instead of their disabilities.
About Special Olympics New Hampshire
Special Olympics New Hampshire (SONH) is an accredited program of Special Olympics International (SOI) and is part of an international global movement that unleashes the human spirit through the transformative power and joy of sports, every day around the world.  We empower people with intellectual disabilities to become accepted and valued members of their communities, which leads to a more respectful and inclusive society for all.  Using sports as the catalyst and programming around health and education, Special Olympics is fighting inactivity, injustice and intolerance.
FOR IMMEDIATE RELEASE
Contact: Mark Ericson
603-624-1250 Ext. 22
MarkE@sonh.org