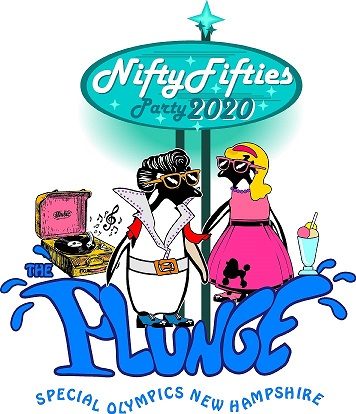 Winter Water Sports Theme Announced
We're Going Back In Time!
Manchester, NH (November 1, 2019) – Special Olympics New Hampshire has set the calendar for the upcoming season of Winter Water Sports. As Special Olympics New Hampshire celebrates 50 years in the Granite State, it's only fitting that this season's theme is The Nifty Fifties. Prepare for a fundraising frenzy of fabulous fifties fads, poodle skirts, Elvis and more!
The SONH Winter Water Sports Season kicks off on Sunday, December 8th with the Prep School Plunge. Students from various Granite State prep schools will be raising funds for Special Olympics New Hampshire and gather at Wolfeboro's Brewster Academy for an icy plunge.
Next on the Winter Water Sports Schedule will be an entire weekend of "freezin' for a reason" as Plunge Weekend "hits the beach" at Hampton on February 1st and 2nd. The weekend starts with the 12th Annual High School Plunge. Individuals and teams from high schools across New Hampshire will be plunging into the icy Atlantic at Hampton Beach starting at noon on Saturday, February 1st. The 21st Annual Penguin Plunge will dive in at noon on Sunday, February 2nd. Each day will see hundreds of "plungers" and spectators participating in an event that is as much spectacle as it is fundraiser. Thousands have participated in this incredible fundraising event over the past 20 years. Whether you plunge as an individual or gather a team together with co-workers, friends or family, it's an experience that all should try at least once.
The final events in the Winter Water Sports season will take place on the shores of Lake Winnipesaukee during Dip Weekend on March 7th and 8th. Saturday the 7th is the day for both the Law Enforcement Winni Dip and the Cool School Winni Dip. Middle school and high school students from the coolest of schools will fundraise and dip for Special Olympics New Hampshire. Following the Cool School Dip, members of Law Enforcement and Public Safety will be dipping to raise funds and awareness for SONH. The Annual Community Winni Dip happens Sunday where all who fundraise for Special Olympics New Hampshire can test their fortitude in The Big Lake.
"Many participants return each year to fundraise in our various Winter Water Sports events. But it's also great to see so many new faces every year and know that many of them will become return participants to the event." said SONH President and CEO Mary Conroy.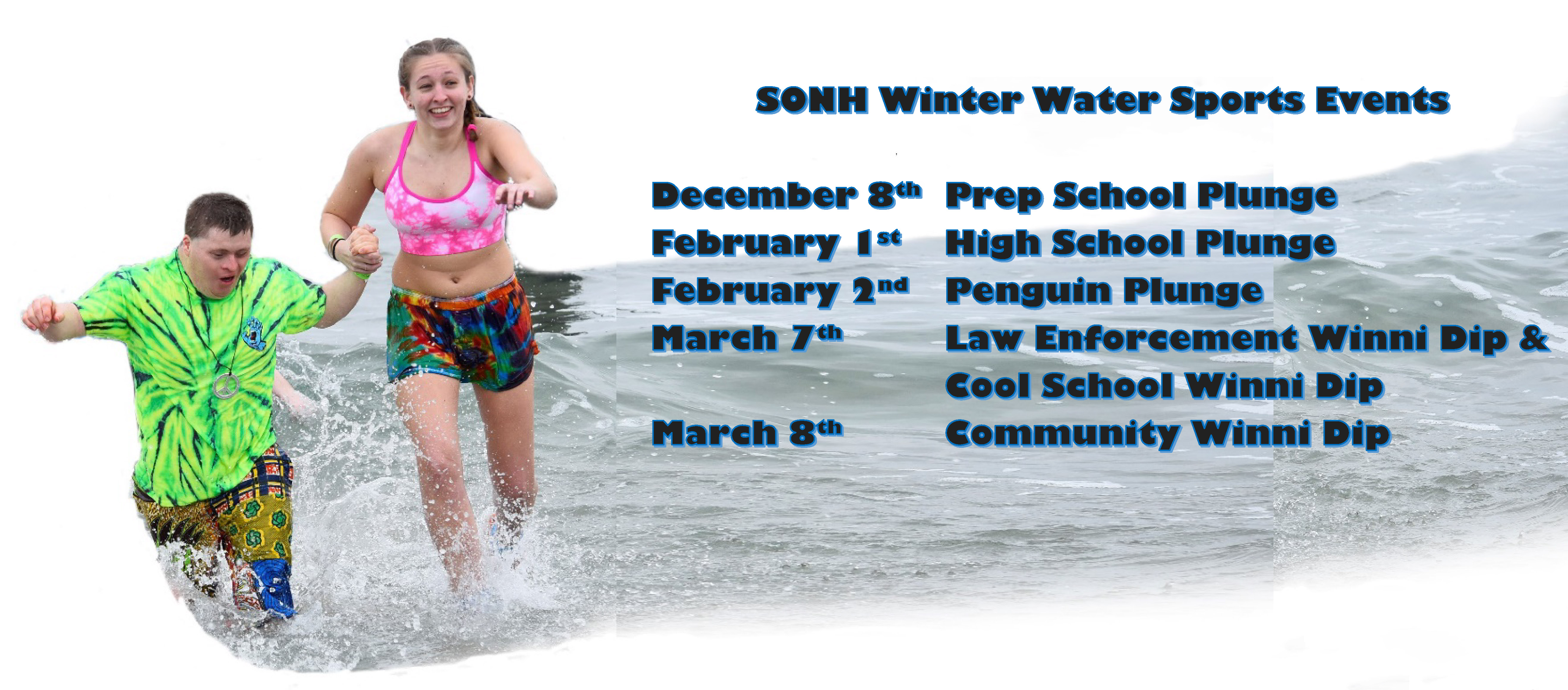 About Special Olympics New Hampshire
Special Olympics New Hampshire (SONH) is an accredited program of Special Olympics International (SOI) and is part of an international global movement that unleashes the human spirit through the transformative power and joy of sports, every day around the world. We empower people with intellectual disabilities to become accepted and valued members of their communities, which leads to a more respectful and inclusive society for all. Using sports as the catalyst and programming around health and education, Special Olympics is fighting inactivity, injustice and intolerance.
FOR IMMEDIATE RELEASE
Contact: Mark Ericson
603-624-1250 Ext. 22
MarkE@sonh.org