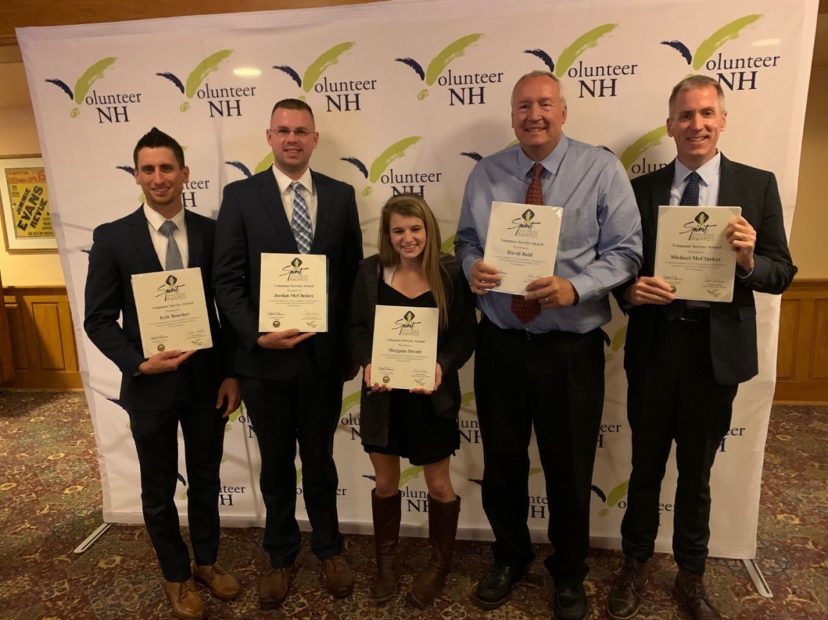 SONH Volunteers Honored at Spirit of NH Awards
Volunteer NH is a Concord-based statewide non-profit organization that promotes the tradition of volunteerism in the Granite State. They proudly provide training, recognition and a centralized location for volunteers and organizations to connect and thereby strengthen their communities.
Each Fall Volunteer NH recognizes many volunteers at their annual Spirit of NH Awards ceremony. The 2019 celebration of service was held Wednesday night, November 13th at the Capitol Center for the Arts in Concord.
Volunteer Service Awards are presented to volunteers in the following categories: Youth/Young Adult, Adult, Senior, Group, and National Service (AmeriCorps members and Senior Corps volunteers). Volunteer Champion Awards are presented to businesses and nonprofits which provide structure and support for volunteer efforts.
This year's event recognized five Special Olympics New Hampshire volunteers from the Capitol Area Cougars. Those recognized were Kyle Boucher, Jordan McCloskey, Mike McCloskey, Morgan Orcutt and David Reid.
Kyle Boucher is a Unified Partner in basketball and has been involved with Special Olympics New Hampshire for approximately six years. With his endless enthusiasm and energy, he helps each player to reach beyond what they think they're capable of.
Father and son Mike and Jordan McCluskey have been part of the SONH family now for twelve years. Mike is a basketball coach and was goalie back in the Unified Floor Hockey days. A compassionate and gentle coach, he always ensures no one is left out of the game. Through his service he embodies the idea that everyone is important, and everyone has a gift to share.
Jordan McCluskey also participated in those sports, but these days is a Hooksett police officer and is involved with the Law Enforcement Torch Run while continuing to act as a positive role model for the team.
Morgane Orcutt plays Unified Basketball and according to Sue Coviello of the Capitol Area Cougars is always willing to help out wherever she's needed. While appreciative of the honor, she finds it interesting that she received an award for "just going to play basketball with my friends." Morgane has served six to ten hours per month with the Capital Area Cougars Special Olympic team for six years and is a vital part of the basketball and floor hockey teams. She serves as a role model for the athletes, always helping them do their best.
David Reid is a basketball coach who has been with the program for eight years. Dave's extensive knowledge of the game has helped the players develop and grow. The members of his team have become highly skilled under his coaching.
Kyle, the McCluskeys and David were recognized in the Adult Volunteer category while Morgane was acknowledged in the Youth/Young Adult category.
Volunteer NH receives approximately 100 entries each year for the volunteer honors. "We received five nominations for individuals who volunteer with the Capitol Area Cougars Special Olympics Team, all of whom were selected to receive Volunteer Service Awards. It is clear that Dave, Jordan, Kyle, Mike, and Morgane are all excellent role models, always helping the athletes to believe in themselves and do their very best. They are caring and dedicated volunteers who bring the right balance of patience and energy to the team!"  According to Mikayla Collins who is the Volunteer NH Programs Officer. Volunteer NH's highest honor is the "Spirit of NH" award. This year's recipient was Tom Fencil, who volunteers with Home Health & Hospice Care. He has served in a variety of roles – cooking meals, driving cancer patients to appointments, speaking at volunteer trainings – but he truly shines as a companion volunteer.
Photo features left to right: Kyle Boucher, Jordan McCluskey, Morgane Orcutt, David Reid and Michael McCluskey.