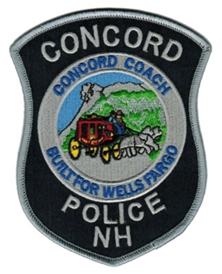 Skate With A Cop Saturday Night
Concord Police Department Hosts Fundraiser
Concord, NH (December 23, 2019) – This Saturday night (12/28) from 7:30 pm to 9:30 pm all are invited to the Douglas Everett Arena in Concord for an ice-skating party with members of the Concord Police Department. Concord officers and other personnel will be joined on the ice by athletes from Special Olympics New Hampshire.
Admission to the arena is just $5 per person and the Everett Arena will be donating 100% of the door proceeds to Special Olympics New Hampshire. Carol Cray Director of Development for SONH notes that the timing couldn't be better; "The Saturday between Christmas and New Year's is a great time for ice skating. The kids are on vacation from school and this is a wonderful Saturday night out for the whole family. We're especially thrilled that the Everett Arena will donate all of the door proceeds to Special Olympics New Hampshire." The arena will have rental skates available for an additional $5 fee and the concession stand will be selling food, drinks and snacks. Everett Arena is at 15 Loudon Road in Concord. Questions related to the arena can be answered by calling the arena directly at 603-228-2784.
Joining the human members of the Concord Police Department will be the Concord PD Comfort Dog Liberty. The first such service animal in the state, Liberty is a yellow Labrador retriever. Liberty was rescued in Pennsylvania by Hero Pups of Stratham, New Hampshire. It's Liberty's job to put witnesses and victims at ease during the justice process. Liberty won't be skating but loves to meet new people.
The Concord Police Department plays an integral part in each year's Law Enforcement Torch Run for Special Olympics New Hampshire. The statewide fundraiser celebrated its 35th running in 2019 and since its inception, has raised more than $6 million dollars in the Granite State.
More information about Skate With A Cop can be found on the Concord Police Department's official Facebook Page, @ConcordPD. Liberty is on Facebook too: @LibertyConcordNHPD.
About Special Olympics New Hampshire
Special Olympics New Hampshire (SONH) is an accredited program of Special Olympics International (SOI) and is part of an international global movement that unleashes the human spirit through the transformative power and joy of sports, every day around the world. We empower people with intellectual disabilities to become accepted and valued members of their communities, which leads to a more respectful and inclusive society for all. Using sports as the catalyst and programming around health and education, Special Olympics is fighting inactivity, injustice and intolerance.
FOR IMMEDIATE RELEASE
Contact: Mark Ericson
603-624-1250 Ext. 22
MarkE@sonh.org