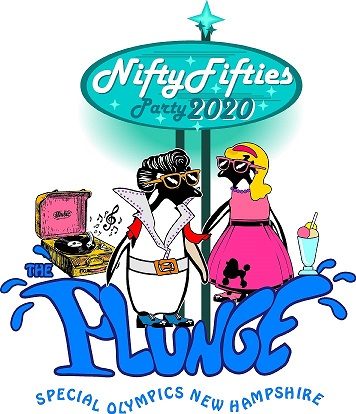 Ready… Set… Plunge!
Plunge Weekend Saturday & Sunday February 1st and 2nd
Manchester, NH (January 13, 2020) – Special Olympics New Hampshire (SONH) will present the High School Plunge on Saturday, February 1st and the Penguin Plunge on Sunday, February 2nd. Both events will take place on Hampton Beach. These annual fundraisers encourage communities to come together by taking a plunge into the icy Atlantic Ocean to support over 3,000 Special Olympics athletes in New Hampshire.
Plungers must each raise $200 for the High School Plunge or $350 for the Penguin Plunge to participate. Everyone is encouraged to register online at www.sonh.org and create a fundraising webpage. Most fundraising is done online and via an individual's social media channels. This year's theme honors the 50th anniversary of Special Olympics in New Hampshire. The theme is "Nifty Fifties" and whether it's Elvis, poodle skirts, "Happy Days" or "Grease" everyone is encouraged to go back in time by wearing costumes and accessories related to the 50's. In addition to jumping in the water, the day includes music, a costume contest, food and awards.
These two days are the largest single fundraising weekend for Special Olympics New Hampshire. All funds raised stay in the Granite State. Each day's event is wrapped up by 2PM allowing plenty of time for other weekend activities.
While those who are plunging each day are certainly the center of attention, there are many ways to be a part of this exciting weekend without jumping into the water. Anyone interested in supporting SONH but not going into the water should consider becoming a Pampered Penguin. Pampered Penguins fundraise and receive all the same benefits as Plungers but without getting wet. The logistics of these two days require help from our talented and dedicated volunteers and we always have room for more. Other opportunities to sponsor or donate can all be found at the Winter Water Sports page of our website.
About Special Olympics New Hampshire
Special Olympics New Hampshire (SONH) is an accredited program of Special Olympics International (SOI) and is part of an international global movement that unleashes the human spirit through the transformative power and joy of sports, every day around the world. We empower people with intellectual disabilities to become accepted and valued members of their communities, which leads to a more respectful and inclusive society for all. Using sports as the catalyst and programming around health and education, Special Olympics is fighting inactivity, injustice and intolerance.
FOR IMMEDIATE RELEASE
Contact: Mark Ericson
603-624-1250 Ext. 22
MarkE@sonh.org