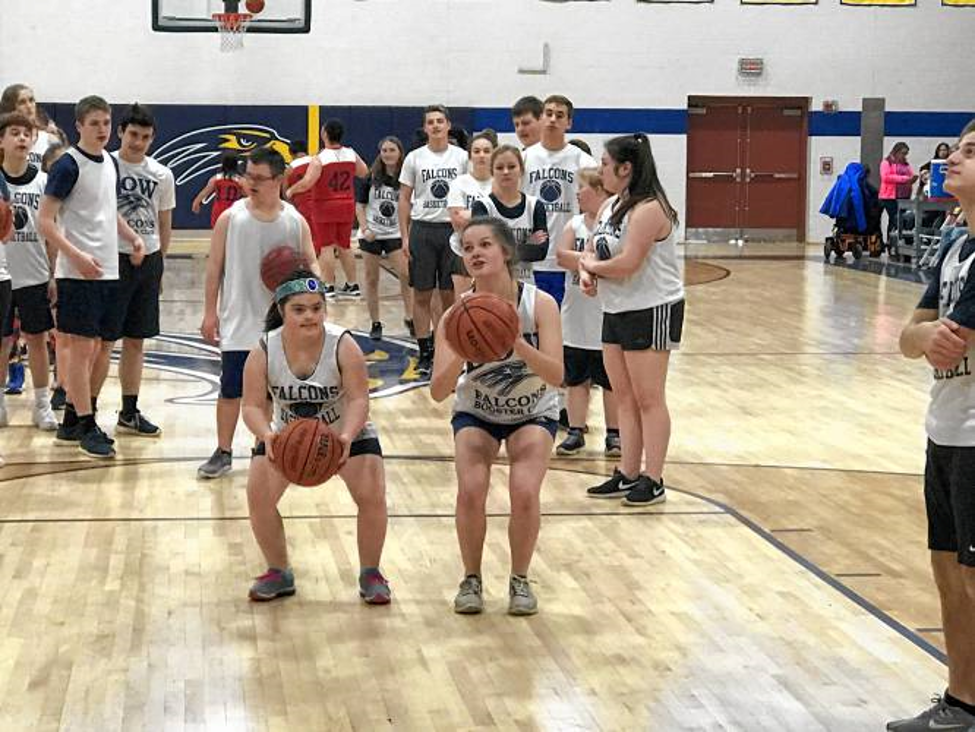 United We Stand, and sometimes hit jump shots
New Hampshire House Bill 1698 is under consideration now in Concord. It's a bill to support school departments in New Hampshire in establishing co-curricular programs like Special Olympics Unified Sports. On Tuesday, January 21st there was a hearing in Concord about the bill. This is the Concord Monitor newspaper's report about the hearing.
Story and photo courtesy Ray Duckler-Concord Monitor
Emily Buczala, No. 25, heated up.
She hit nothing but net on a lane jumper, then buried a pair of bank shots from the same spot. About 10 feet from the hoop, in the Bow High School gym, with the maze of championship banners proudly looking down from high on the walls. With fans in the bleachers, including a woman holding a homemade placard that read, "
The electronic scoreboards, beyond each baseline, completed the scene, documenting the scoring, showing the time left in each quarter and confirming that this was no pickup game without structure or schedule or referees.
This was a unified basketball game featuring a blend of intellectually disabled students and their partners, their teammates, their fellow students. There was competition, a winner, a loser, hot shooters, high scorers.
And there was Bow High senior Emma Wilke, Buczala's teammate, who appeared before the Education Committee this week and has emerged as the face of a movement to usher in a new era of unified co-curricular activities.
She's No. 25, too.
"She's heavily involved in a number of activities and she really values the unified sports experience," explained first-year Bow High Assistant Principal Matt Fisk, who doubles as Bow High's unified basketball coach.
"And the kids on the team absolutely love Emma. When she arrives, they immediately run to give her hugs. She exudes passion for the players on the team, and she's a big proponent of access. She's always at meetings leading the charge for inclusion."
One of those meetings happened on Tuesday, two hours before game time. A hearing, actually, at the Legislative Office Building. The call went out to students in different areas, supporters of HB 1698, to attend Tuesday's meeting.
But the holiday weekend, combined with the failure of lawmakers to announce the hearing in a more timely manner, made it difficult to attend on such short notice.
Wilke was the only student who showed up, asked by a segment of the Bow unified community to explain to the committee why this program meant so much to the school district. And why it should spread statewide.
The proposal asked for $50,000 from the state's general fund, to be managed by the Department of Education, to give high schools the option to add programs – sports, theater, music – that would be called co-curricular activities. Leftover money would go to schools that have already joined the team.
Wilke served as the voice for change. Later that day, she'd wear a white basketball uniform, No. 25, and high-five teammates. But at the LOB, she dressed professionally, her statement perfectly typed up as she faced the committee.
"This team allows individuals from all walks of life to come together in the commonness of the game," Wilke told the committee. "Practices have a tangible sense of elation, and games have more positivity than one could ever imagine.
"The essence of unified is found in the relationships built between every person."
Later, outside Room 207 at the LOB, Wilke sat for an interview, a challenge considering that lobbyists and lawmakers, one by one, felt compelled to stop and thank Wilke for her caring and unselfish nature. They wanted to meet the 17-year-old girl who wrote a speech and drove downtown to reason with the committee.
"You open the gym doors and all these athletes are there and they're excited to see you," Wilke told me on the LOB's second floor, explaining her excitement. "We talk about their day and they ask about yours, and it's a very social environment, which is what they need."
It seems simple, straight forward, an obvious piece of society's mentality that needs to be fixed, right? Provide special needs students with the same opportunities as others. Help them reach their potential. Right?
Rep. Susan Warren, Democrat from Bedford, is a co-sponsor of the bill. She's heard no resistance, which could mean no one wants to go on the record opposing it, since no one wants to look like the devil.
Or maybe the trend will grow to all corners of the state.
"I thought Emma Wilke (was) eloquent in explaining all the positive impacts this has," Mullen said by phone. "I have not heard any negative feedback from any of my colleagues."
Once, the thinking was very different, and we learned this recently from Marcia Evans of Hopkinton, who told us that doctors wanted to institutionalize her brother, George Evans, when he was born with Down syndrome in the 1950s.
The Evans family said no. They brought George home, to the family farm in Hopkinton. They taught him to ride horses and teach riding to other intellectually disabled children.
Good for Marcia Evans and her parents. Good for Wilke. Good for everyone.
It's sort of an ambassadorship, well represented in this case. Wilke, who first befriended a challenged student at Bow Middle School, is the senior class president at Bow High and an all-star soccer goalie. She attends leadership councils, and she'll decide soon on a college so she can one day serve as a physician's assistant for Doctors Without Borders.
She was joined at the hearing by Mary Conroy, the president of the New Hampshire Special Olympics. She told the committee that 80 high schools and 14 middle schools, mostly in the southern part of the state, have inclusion programs. She believes all schools should open their doors in this fashion.
Conroy's voice has been a constant since unified sports began in New Hampshire in 1989. She knows the importance of the program. She was prepared, with data, numbers, words.
Later, she told me, "For a person with an intellectual disability participating in Special Olympics, you're twice as likely to be employed, as opposed to if you were not involved in Special Olympics. So that tells us sport is so powerful, all the great things, rules, right and wrong, winners and leaders."
Michael Dennehy, a local lobbyist, is lobbying hard for unified activities. His son, Liam, has been on the Bow unified team for four years, same as Wilke, and the two are good friends. Wilke went to Liam's birthday party recently.
"Liam has friends like Emma that are too meaningful to put into words," Mike Dennehy told me.
Liam was one of the hot shooters in Bow's 40-35 win over Manchester Memorial this week, scoring eight points. Brian Rescino hustled his way to a game-high 16 points.
In unified basketball, three challenged players team up with two teammates, known as neurotypical peers. They don't shoot. Instead, they set up teammates, passing them the ball and a dose of self-esteem.
Coach Fisk shouted encouragement, told his players to hustle, have fun. Co-coach Kelly Hopler paced the area in front of the team bench, holding a piece of paper, announcing who's entering the game after the next timeout.
At halftime and again after the game, a pair of No. 25s high-fived. They sometimes play drums together. On this day, they played basketball together.
"When I joined the team, I thought I would be more in a leadership role. I thought I would be the one helping them," Wilke told me. "But in reality, the partners like myself weren't here to be the leaders. We were here to be the learners."