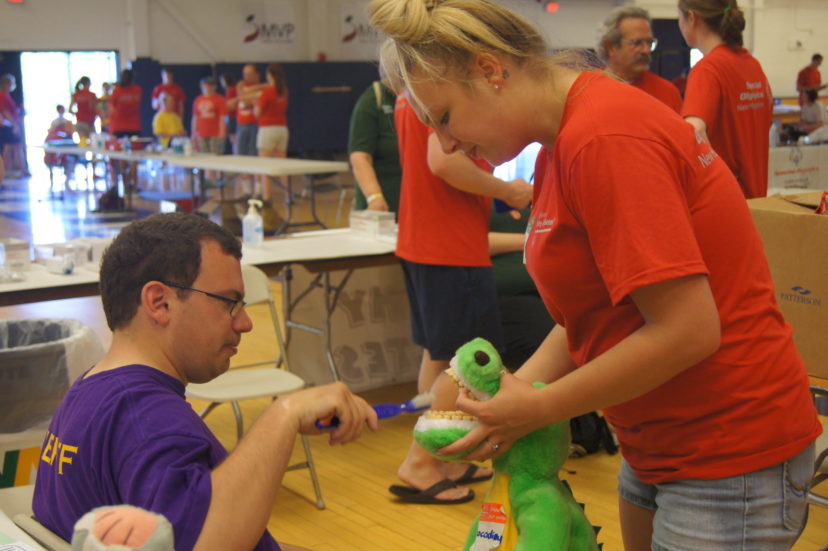 Special Olympics Healthy Athletes®
As published in the Northeast Delta Dental Incisor Newsletter
People with intellectual disabilities are at increased risk for several preventable health conditions, and experience higher mortality rates. Special Smiles is the dental health discipline of Special Olympics Healthy Athletes® that provides athletes with intellectual disabilities the opportunity to take charge of their oral health. Special Smiles offers free dental screenings to Special Olympics athletes. Special Smiles examinations have found that a large percentage of Special Olympics athletes in the U.S. are unaware of the condition of their oral health.
47% have gingival signs
25% have untreated tooth decay
9% received an urgent dental referral
12% have mouth pain
This past June during the 2019 State Summer Games at UNH in Durham, Special Olympics New Hampshire provided Healthy Athletes screenings. There were 800 athletes competing in the 2019 games and approximately 100 underwent a free Special Smiles screening. The screening program is led by Dr. Adam Wolff D.D.S. of Salem, New Hampshire. He started volunteering with Special Olympics in Texas as a dental student 20 years ago. He's been in the Granite State for 15 years working with SONH. Dr. Wolff is backed up by a team of about 30 including other dentists, dental hygienists as well as some dental hygienist students from NHTI.
The 2019 State Summer Games also served as the kick-off of the 50th anniversary celebration of Special Olympics in New Hampshire. That celebration continues through the 2020 State Summer Games in June.
Dr. Wolff says that athletes' dental care falls into one of three categories: maintenance and regular care, minor problems and those who need urgent care. On average, Dr. Wolff says 3-5 athletes per year will need urgent care. Dr. Wolff has developed a statewide network of providers that he refers athletes to when necessary. "Basically, we like to be sure that every athlete has a dental home" he says. "The athletes come from all over the state and there were some places where dental care was an hour drive or better. In the past 10 years that access has really improved" according to Wolff.
The 2020 State Summer Games return to UNH June 5th and 6th. The Healthy Athletes program, including Special Smiles will once again be offered on Saturday, June 6th. More information about Special Olympics New Hampshire can be found online at www.SONH.org.