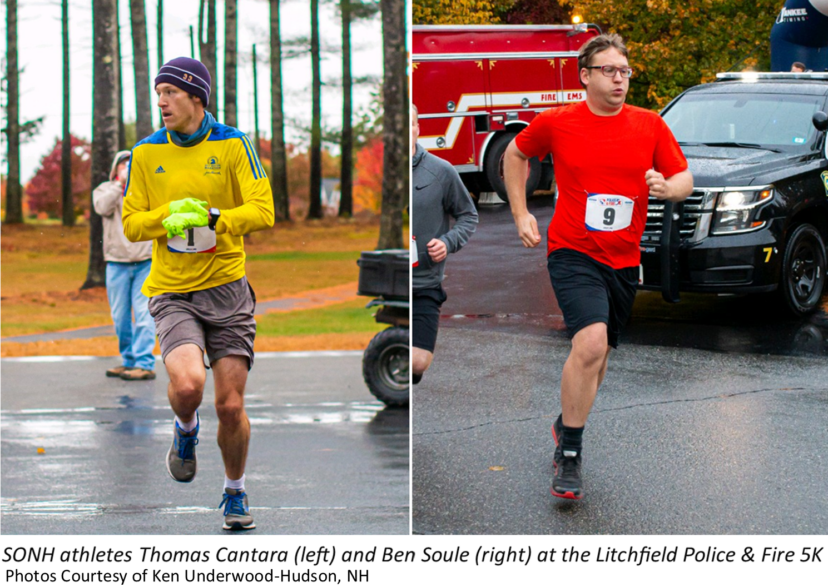 Thomas Cantara Wins Inaugural Litchfield Police & Fire 5K
SONH athlete Thomas Cantara is a runner. A serious runner. In 2020 the police and fire departments in Litchfield, New Hampshire hosted the 1st Annual Litchfield Police and Fire 5K to benefit the Litchfield Police and Firefighters Association. Originally scheduled for May 16th and postponed due to the coronavirus pandemic, the race finally stepped off on October 17th with a field of 95 runners and a socially-distant start. Thomas describes it as "runners staged with 6 feet of distance front to back and 3 feet of distance side to side."
The course was advertised as "fast and flat" and Cantara ran it in 16 minutes and 52.4 seconds. That time was good enough to earn first-place honors for the 30-year-old from Nashua. It was his second 5K win this year, the other one being the Home Stretch 5K in Nashua which ran this year on August 13th.
Thomas' friend and fellow SONH athlete Ben Soule also ran the Litchfield 5K event and made a strong 12th place finish at 24 minutes and 13 seconds. Thomas competes with Nashua Special Olympics and Manchester Special Olympics and Ben is also a member of the Manchester Special Olympics program. Cantara's first experiences with running came early on in his journey with SONH. He remembers participating in athletics competitions when he was 12 years old. "I did sprints and the short runs" he says noting that he didn't start with longer runs until his high school years. He says that his father started running longer races when he was in high school and that's what inspired Thomas to do the same.
Cantara notes that this is only the third in-person race he's participated in since the start of the pandemic in March. Thomas has also participated in virtual races including this year's Boston Marathon.
Cantara also ran the Boston Marathon in 2013 and 2019 when they were in-person. He planned on running it again this year and was one of the more than 30,000 runners to sign up. The coronavirus pandemic caused this year's Boston Marathon to become virtual and it still garnered more than 16,000 participants. Participants turned their times in to the marathon's parent organization the Boston Athletic Association (BAA). The BAA website has posted results for 16,193 participants in this year's virtual event. Thomas Cantara is number 132 on that list with his marathon time being 2 hours and 46.06 seconds. He ran his virtual race on September 13th and notes that Soule helped him train for that event. Up next for Thomas is the Manchester City Marathon on Sunday, November 8th.