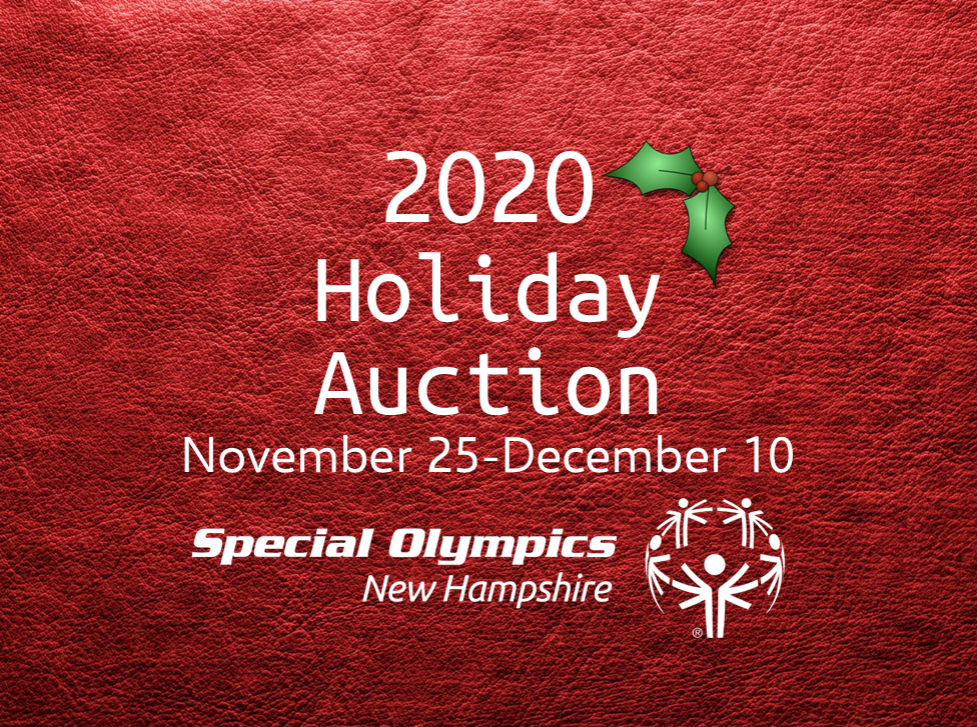 Online Holiday Auction: Bidding Benefits Athletes in NH
Concord, NH (November 25, 2020) – The 2020 holiday season is here and purchasing gifts online promises to be busier than ever amid the continuing pandemic. Special Olympics New Hampshire is ready to help you find great gifts for everyone on your list with the 6th Annual Holiday Auction.
The auction is live online now and runs until 9pm on Thursday, December 10th.
SONH is thrilled about this year's selection of items up for bid. As the temperatures start to feel more winter-like you can bid on 125 gallons of heating oil from Wenzel Oil. There are gift cards available from Hannaford, Wal Mart and Market Basket. Need some top-quality furniture? Sports memorabilia fans will enjoy bidding on a Zdeno Chara signed Bruins jersey. Bid on a handmade one-drawer Shaker table. If you own or manage a business take a look at the one-third page ad in NH Magazine.
Bidders should check back often to monitor the status of their bids. In addition to checking on those bids, there may be some last-minute auction items added.
Special Olympics New Hampshire serves more than 3000 Granite State children and adults with intellectual disabilities. During the world-wide pandemic, SONH has been working to keep athletes active and engaged via several initiatives. SONH staff and volunteers have reached out to athletes via video platforms, social media, emails, telephone calls and letters. Auction item purchases will assist in the continuation of those efforts.
The bidding continues until December 10th. Even if you don't have any active bids check back often for new items added. We will be showcasing some items on our Facebook, Instagram and Twitter pages. The entire auction can be seen at www.SONH.org.
SONH thanks all auction donors and participants.
About Special Olympics New Hampshire
Special Olympics New Hampshire (SONH) is an accredited program of Special Olympics International (SOI) and is part of an international global movement that unleashes the human spirit through the transformative power and joy of sports, every day around the world. We empower people with intellectual disabilities to become accepted and valued members of their communities, which leads to a more respectful and inclusive society for all. Using sports as the catalyst and programming around health and education, Special Olympics is fighting inactivity, injustice and intolerance.
FOR IMMEDIATE RELEASE
Contact: Mark Ericson
603-498-5186
MarkE@sonh.org