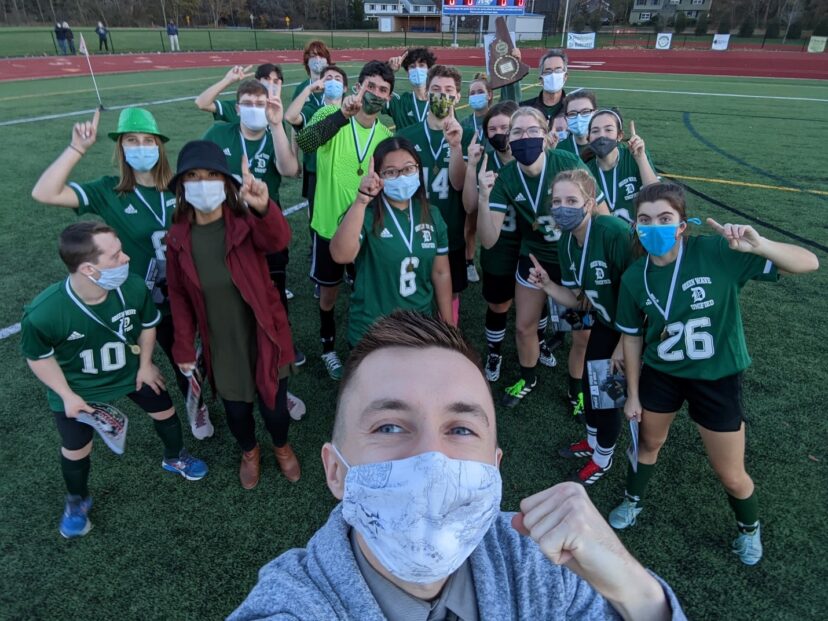 Dover Green Wave Wins Unified Soccer Championship
November 5th 2020 was a warm sunny day in the Granite State, and perfect weather for the Unified Soccer Championship game between the Oyster River Bobcats and the Dover Green Wave. The NHIAA Unified Soccer Player Development final was played at the Oyster River field in Durham.
The Green Wave blanked Oyster River 3-0 to earn the NHIAA Championship. Dover Unified Soccer Coach John O'Mahoney says the Oyster River team "is a friend we have great respect for."
The Green Wave goals were scored by Jacob Constas, Brenden Curry and Tessa Goodell. O'Mahoney is quick to note that his entire team "played their hearts out when on the field and cheered their teammates on when on the bench. Win, lose, or draw I am always proud of this team. But winning a championship for the Green Wave and bringing a bit of good news to our community in this crazy time really was a special moment!"
Coach O'Mahoney credits his team for banding together during a season like no other. Members of the team adhered to rules regarding masks and social distancing. Dover teammates also proved to be very flexible about student absences and games being cancelled and rescheduled.
All the adjustments necessary to play during a pandemic coupled with a hard-fought win against Londonderry just three days before the DHS-Oyster River final made the win that much sweeter for the Green Wave.
Goal-scorer Brenden Curry notes "We worked so hard this season. We won the state championship. We had lots of fun and worked hard for so many years." Teddy Lipinski is a sophomore partner who is new to the team this year. He's pretty happy with his team and his coach saying "This season and this team has taught me a lot about myself. I haven't played soccer since fourth grade and in August I didn't even know if we would have a season. I never met any of the coaches and knew almost no one on the team. The first practice, the team welcomed me with open arms, the motivating yet casual atmosphere brought to practice would have made a bad mood impossible. There was so much support for everyone on the team, for athletes and partners. The games couldn't have been more fun. Coach O is the GOAT.(greatest of all time)"