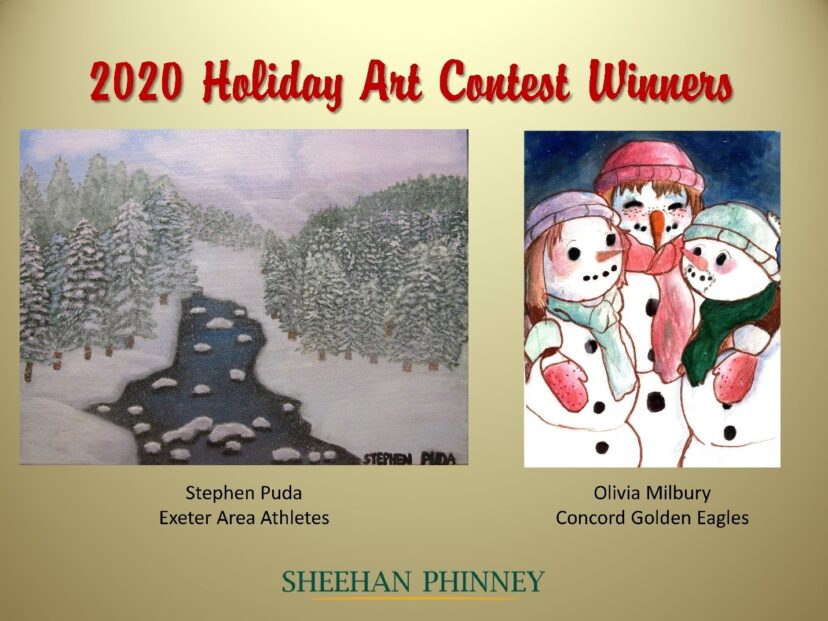 Sheehan Phinney Holiday Card Art Contest Declares Two Winners
Each year Special Olympics is proud to be a part of the holiday card for the Sheehan Phinney law firm. Sheehan Phinney calls on the talents of SONH athletes to create their company holiday card that is sent to their clients and friends across the country and around the world.
For 2020 the judges at Sheehan Phinney found themselves with a tie for first place honors. SONH athletes Olivia Milbury (Concord Golden Eagles) and Stephen Puda (Exeter Area Athletes) both received a $150 gift card from Sheehan Phinney and both of their entries were incorporated into Sheehan Phinney's beautiful holiday card. You can see the card here:
https://www.flipsnack.com/sheehanholiday/sheehan-phinney-2020-holiday-card/full-view.html
The judges noted the degree of difficulty involved in judging so many entries that were both delightful and heart-warming. Everyone who entered the contest will also receive a thank-you from Sheehan Phinney. All the entries can be seen here:
https://www.sheehan.com/wp-content/uploads/2020/12/Sheehan-Phinney_Art-Contest_2020.pdf
Sheehan Phinney extends their gratitude and congratulations to all who entered the contest.