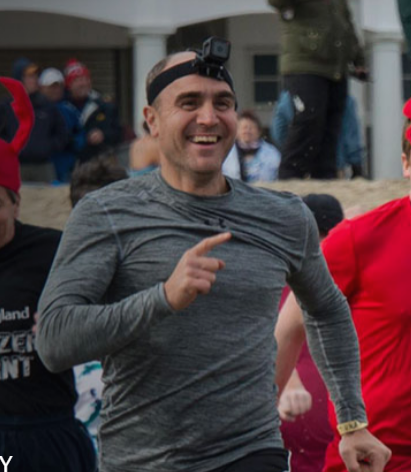 "Tinker"-ing With The Penguin Plunge and Winni Dip
Eric Tinker is a long-time volunteer and supporter of Special Olympics New Hampshire. He's also a Store Supervisor with Associated Grocers of New England. The partnership between SONH and AGNE has been beneficial to both parties for many years and Eric's spirit is an important part of that relationship.
Once again in 2021 there will be a Penguin Plunge flock comprised of Eric and several fellow employees from Associated Grocers. This year's flock is called "The Numb Things" and Tinker explains that "there are 15 signed up right now, but we'll probably be at 19 for the actual plunge."
Even though this year's Penguin Plunge is a Do-It-Yourself effort that can be carried out anytime between February 3rd and February 7th, the AGNE team is big on tradition and intends to plunge on February 7th which would have been the traditional day for the Penguin Plunge if not for the worldwide pandemic.
When registered plungers start receiving their "Plunge Pails" ahead of this year's DIY Plunge they will enjoy some microwave popcorn, Gumi Sharks, chips, cookies and some penguin-shaped crackers all courtesy of Associated Grocers of New England and several of their vendors.
A plunging flock of 15-19 people and snack packs for hundreds of registered plungers. That's a lot of effort and generosity for any organization.
Eric Tinker could have stopped there. He didn't.
In 2020 SONH launched the first official MEGA Dip as part of Winni Dip weekend. The concept being that a group of registered MEGA Dippers would jump into Lake Winnipesaukee at the top of the hour… Every hour… For 24 hours.
The team was made up of law enforcement officers and one non-law enforcement member. Eric Tinker. The MEGA Dip is back this year also in a DIY way. This year's MEGA Dippers are primarily officers from the Hudson Police Department along with some officers from both Nashua and Hollis Police Departments.
They will be joined once again by one non-law enforcement professional. Eric Tinker.
Eric is back for another 24-Hour MEGA Dip even though he says, "it was one of the hardest things I've ever done." Tinker notes that "Dip number 15 is like mile 16 or 17 of a marathon. You just know that you have such a long way to go." What makes it work for him though is the group that he is with. "The guys from Hudson Police have just embraced me" he says.
Eric has also achieved a little extra notoriety this year. Even if you don't know who Eric Tinker is, you actually kind of do. A photo featuring Eric at an earlier Penguin Plunge was chosen for use as the header on the Penguin Plunge page at SONH.org. He's the one wearing the Go-Pro camera on his head.
We thank Eric Tinker and Associated Grocers of New England for all that they do collectively and individually for SONH.