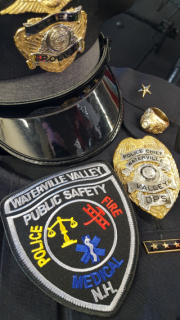 Police Get Creative for DIY Dip
Dave Noyes is the Chief of Police in Waterville Valley, New Hampshire. He is also currently serving as the Law Enforcement Torch Run Director for Special Olympics appointed by the New Hampshire Association of Chiefs of Police. It is his status with the Torch Run that brought him to his first-ever Winni Dip in 2020. "I'm not a cold-water guy" he says. He is also quick to point out that the excitement and camaraderie of last year's event at the Margate Resort made it an enjoyable experience despite the water temperature.
In 2021 Chief Noyes, like everyone else, is being left to his own devices to come up with a creative way to make his Winni Dip to support the athletes of SONH. In his case, those devices include access to a big fire truck and the firefighters that know how to use it.
A "Fire truck shower" is how the chief describes the plan for his team to participate in the DIY Winni Dip. In addition to himself and other members of the Waterville Valley Public Safety team, they will be joined by Thornton Police Chief Ken Miller and Sergeant Dan Gilman. Chief Noyes notes that "We have also invited any other Grafton County area agencies to share our shower with us on that morning."
Rounding out the team is a perennial favorite of SONH, retired Woodstock, NH Police Chief Doug Moorhead. Famous for his volunteer work for SONH and his belly flops each year at the Winni Dip, Noyes may yet work out a way for Doug to belly flop this year.
Chief Noyes says he is very impressed by the number of agencies participating in the Law Enforcement Winni Dip in 2021. He also notes that he's "even more impressed by the number of new departments that are involved this year." While noting the importance of this year's fundraising efforts for SONH Noyes says "the new faces are inspiring."
Separate from the Law Enforcement Winni Dip, there is another event that is mostly law enforcement personnel… The 24-Hour MEGA Dip. Participants dip once per hour for 24 consecutive hours. It's a relatively new addition to the Winni Dip events, having been brought to the Granite State from elsewhere in New England by Officer Al Marcotte of the Hudson, NH Police Department. The MEGA Dippers this year are comprised of the Hudson PD team joined by SONH board member Eric Tinker of Associated Grocers of New England as well as law enforcement personnel from Hollis and Nashua, New Hampshire.