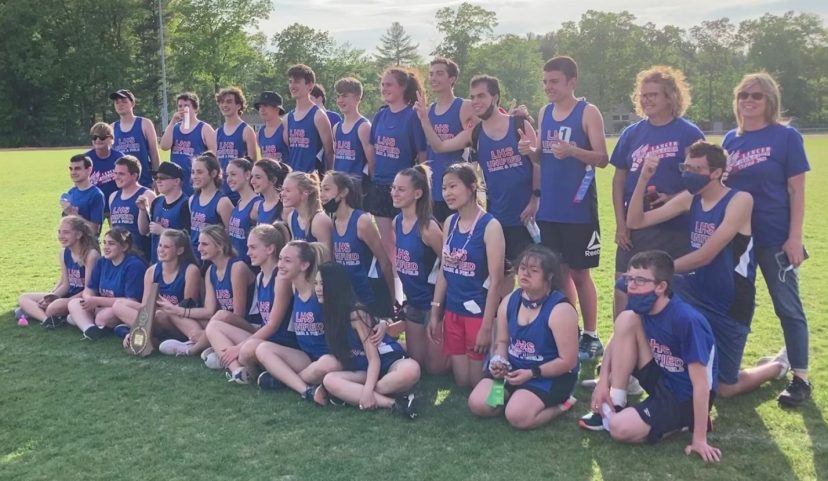 Lancers of Londonderry are State Unified Champions
The NHIAA Unified Track and Field State Championship meet was held May 25th at Alvirne High School in Hudson. The event included "a smaller number of schools and a smaller number of participants due to covid" according to NHIAA President and Alvirne High School Principal Steven Beals. He's quick to point out that in spite of the pandemic-adjusted numbers "The spirit that is paramount to any Unified event was on display."
Unified teams from Alvirne High School, Hanover High School, Londonderry High School, Pinkerton Academy and Stevens High School came to compete for the 2021 championship.
The Londonderry Lancers are the state champs for 2021 and that's no surprise considering that this marks the 8th consecutive championship win for the Lancers. Ann MacLean is a Health and PE teacher, an Interactive PE teacher and coaches the Unified Basketball and Track teams at Londonderry. She notes that "Our team is comprised of 31 student helpers and athletes. Our Unified teams have always been successful because of the number of kids involved in our programs, this year was no exception."
In addition to championship honors, Londonderry managed to set a new state record in the 4 X 100 Men's Relay with a time of 55.18 set by teammates Cameron Therrien, Cody Therrien, Cameron Robbins, and Josh Schmitt.
Coach MacLean says "At Londonderry, we also have Unified Soccer, two Unified basketball teams and track and field. We have over 100 student athletes that are involved in Unified throughout the school year." Londonderry High School was named a National Banner Unified Champion School in September of 2020. Only the 5th school in New Hampshire to earn this honor.
Complete results for the Unified Track and Field State Championship can be found on the NHIAA website here.
The Londonderry High School Lancers won the NHIAA Unified Track & Field Championship on May 25th.