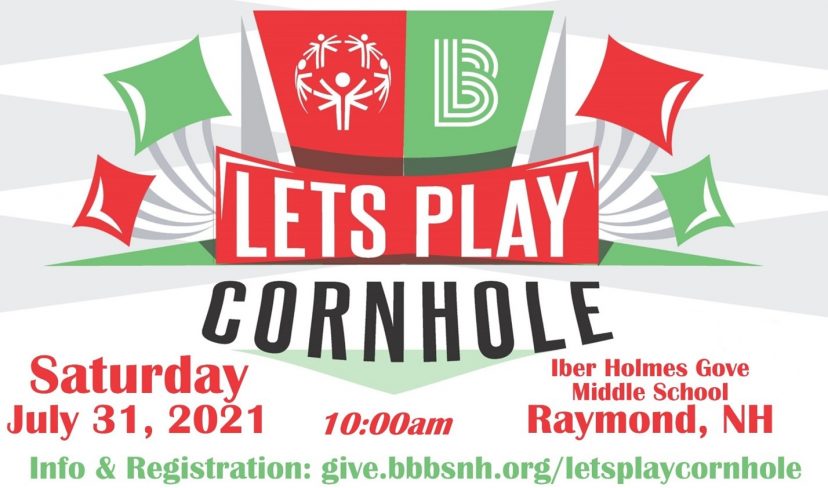 Let's Play Cornhole
The students at Raymond High School are volunteering their time and talent to put on a fundraising Cornhole Tournament on Saturday, July 31st, 2021 in Raymond. This upcoming event raises dollars for the athletes of Special Olympics New Hampshire as well as Big Brothers Big Sisters of New Hampshire.
Bill Hayes is a teacher at Raymond High as well as the school's Unified Program Coordinator and Coach. The RHS "Ram-guins" Penguin Plunge team raised more than $37,000.00 in the 2021 Do-It-Yourself Penguin Plunge made necessary by the pandemic. "Bill is a Champion of SONH" according to Carol Cray, Vice President of Development for SONH. "Not only does he lead hundreds of high school students into the icy waters to raise funds for SONH athletes across the state but has been doing it for years and has consistently been in our top tier of fundraisers" she continued.
This event isn't just about SONH since it will also be raising funds for Big Brothers Big Sisters of New Hampshire. Since 1966, Big Brothers Big Sisters of New Hampshire has been changing lives – one friendship at a time. Mentoring gives youth the inspiration and confidence needed to achieve their dreams, provides parents with a network of support, and offers volunteers the opportunity to make a big difference in someone else's life, just by having fun! "This tournament will be an exciting day of friendly competition to raise awareness for youth mentoring" said Linda Carter. She is the Special Events and Business Engagement Coordinator for BBBSNH. She notes "Big Brothers Big Sisters New Hampshire is excited to partner with Special Olympics New Hampshire in the upcoming Cornhole Tournament."
The driving force behind the event Bill Hayes is quick to credit the school's students saying "Play some Cornhole, win some great prizes, have some great food, and meet some of the greatest students on the planet! We at RHS look forward to seeing you all at our first (of what we hope will be many) fundraisers for BBBS and SONH!"
The event starts at 10:00am on July 31st at the Iber Holmes Middle School located at 1 Stephen K. Batchelder Parkway in Raymond. Tournament play is for ages 14 and older with a $30 per person registration fee. It will be a double elimination tournament. The event will feature a non-tournament cornhole play area for those under 14. Players and friends can purchase food and Coca-Cola beverages and participate in a 50-50 raffle.
Registration and information for the Cornhole Tournament is here.