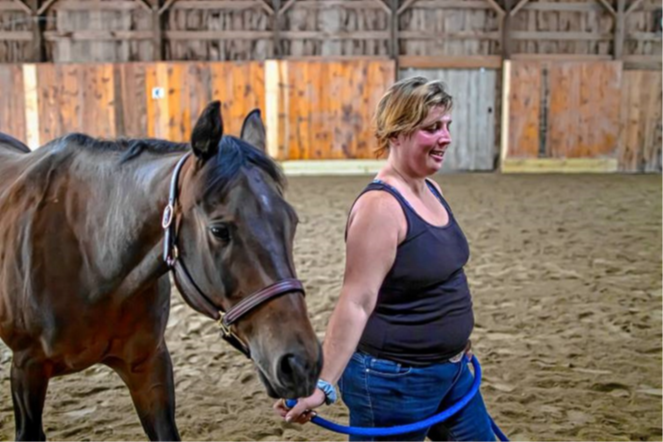 In Allenstown, Amanda Coviello continues her ride of a lifetime
Editor's note: This profile was published in the Concord Monitor on July 8, 2021. It is posted here with permission.
By RAY DUCKLER Monitor columnist
Amanda Coviello believes she still has something to prove.
And now, with the year-long suspension of all Special Olympics team practices and competitions lifted, she'll have a chance to do it. An equestrian, she's one of the thousands of Special Olympic athletes across the state who will return this month as normalcy, not COVID, continues to spread.
She's also one of the thousands of stories re-emerging, many from athletes who have been forced to prove themselves since birth. Coviello was injured falling off a bucking horse a decade ago. That never stopped her, though, and she wants you to know it.
"I'm not afraid of horses," Coviello said after practicing at the Bear Brook Stables in Allenstown. "I want to show that to people so they know it."
If they know Coviello, her story, no proof necessary. Not after her miraculous survival at birth 33 years ago and through some scary early years thereafter. Not after her equestrian accident that cracked her helmet and four ribs 10 years ago, the fall that helped create the defiant attitude she wears on her sleeve today.
And not from the bullying suffered 20 years ago at Allenstown Elementary School. It got worse in middle school. Coviello expressed her feelings in a personal story written for the Special Olympics recently. "Schools," she wrote, "didn't deal with bullying then like they do now. The 'R' word was used a lot when I was around. Every time I talked in class, the kids laughed at me."
No one's laughing now.
Coviello has competed in eight sports during her 24 years as an Olympian. Her passion is the equestrian. She's been riding for 20 years and says, "As soon as I got on that first time, I knew horses were my passion."
She's an unofficial ambassador for the Special Olympics, giving speeches, fundraising, getting the message out that she and her teammates have John Wayne-like grit.
Coviello hopes to compete in the Special Olympics USA Games next summer in Orlando, Fla. She also wants to show her skills during the equestrian competition at the Deerfield Fair in September.
"I look at her now, where we started and where we are," said Amanda's mother, Sue Coviello. "It blows my mind. She's overcome so much."
Trouble began before Amanda could introduce herself to the world. Doctors said she would be born with bilateral hydronephrosis, a condition that prevents a kidney from draining. Both kidneys were blocked in this case.
Back then, 33 years ago, Sue said doctors gave Amanda a two percent chance of living. "It was sheer terror," Sue said.
At four months old, Amanda developed asthma. She made hospital visits to Boston each week for several months, allowing doctors to monitor her kidneys. She had a toxic reaction to medication.
"It was a tough year," Sue said.
Amanda had pneumonia and chickenpox before she was six months old. She was diagnosed with Apraxia, a motor speech disorder.
She'd have trouble speaking and walking, doctors said. Amanda finally said the word "cold" to describe her chilly kindergarten. That was a big deal.
Needless to say, these diagnoses and opinions became hollow words. The kid, bullied mercilessly in school, sick all the time in her youth, did more than survive.
She thrived. Still does.
"After a couple of months we noticed she has a great stubborn streak," Sue said. "She's very determined. Even now, the determination is to the point to where if she decides she is going to do something, she does it."
She plays the violin. She spoke, via Zoom, at a law enforcement conference. She joined the Lake Sunapee Rowing Club 10 years ago and competed in a national event, unaffiliated with the Special Olympics, in Philadelphia. She recently saw a piece on "Chronicle" about rock climbing. She rock climbs now.
"I usually take chances," Amanda told me. "With rock climbing, start easy. It was hard with the upper muscles. I've told friends, 'challenge yourself.' "
She took riding lessons for years at a local stable. She fell from her horse during a competition in Freeman. She broke four ribs, suffered a concussion, bruised a kidney and cracked her helmet.
Nine months later, she climbed aboard her new partner, Bailey. They made a great team. They won ribbons. Amanda has a picture of Bailey and his name tattooed on her right calf. On her left arm, she's got a horseshoe with wings. It reminds her of Bailey to this day. Bailey died 2½ years ago.
"Broke my heart," Amanda said. "Bailey was my protector. He helped me get my confidence back."
She moved to Bear Brook Stables in Allenstown and can now begin training again. She's still choosing a partner. She and Captain had great chemistry last month. Last weekend, though, she rode Jack-sun. The connection, Amanda said, wasn't as strong.
Her new instructor is Becca Matheson of New Boston. She has six horses at home. She led Amanda and Jacksun around with a lead line, a rope, covering a huge rectangular area with a sand- and dirt-based floor called angular wash, a mixture that gives the horse comfort and control.
Their pace was slow, a good way to allow rider and horse to feel each other out, test each other. Plus, Matheson said, Jacksun was a tad lazy. She also said her new student has an amazing seat, meaning good balance. "And she listens well," Matheson told me.
We had to be quiet as the three figures walked. No distractions allowed. Amanda wore a black sleeve-less shirt, blue jeans, black boots, black riding helmet.
"Take a minute, get to know him," Matheson told her student.
"Keep after him. Don't let him win. Relax your hands. And don't look down. He looks at you like a leader. If you look down, he's going to stop. Make it happen."
She brushed Jacksun after the hour lesson. She lifted each hoof and dug out the dirt and rocks from his shoes.
Then Amanda spoke about her two big goals: competing at the Deerfield Fair and then at the nationals in Florida. She called them a "dream."
By then, she'll know her partner. Captain has the inside track.
"Every horse I ride, I make sure they listen," Amanda said. "(Jacksun) needed some work. All horses are sweet unless they have an attitude. You have to make sure they know who's boss, that you're tough." No problem there. She proved doctors wrong. She absorbed everything, all the physical and emotional damage, that the bullies could dish out. And she got back on the horse.
She's been doing that her whole life.
Something to prove? Really?
"I want to tell people who I am," Amanda said.
Photo Credit-Geoff Forester—Monitor staff: Amanda Coviello walks with Captain in the indoor riding area at Bear Brook Stables in Allenstown