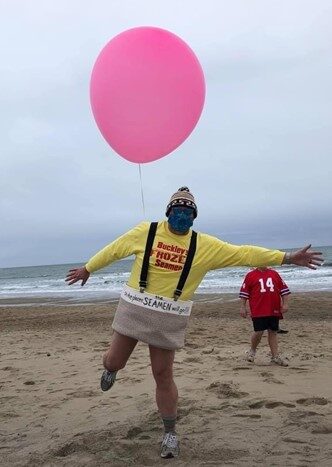 Plunge Math: Water + Party = Roth Townsend
Roth Townsend lives in Derry, New Hampshire. He is originally from Roanoke, Virginia and grew up in a family that all contributed to the care of his Aunt Mary, a woman with intellectual disability. Townsend went to school at the University of Richmond, played football and volunteered with Special Olympics of Virginia across several summers.
Aunt Mary was the daughter of Roth's grandfather, Millard Townsend. The senior Townsend was a teacher by trade and in his career became a leading advocate for those with intellectual and physical disabilities in the state of Virginia. In fact, the historical society in Millard Townsend's hometown hails him as "a pioneer in special education."
After college Roth and his wife Karen moved to Boston and eventually found their way to New Hampshire where they live with their two children, Parker and Olivia. It didn't take long for Roth Townsend to find his way to Special Olympics New Hampshire and our signature fundraising event, the Penguin Plunge.
That's not surprising for two reasons. Naturally, his family history and previous volunteer efforts would steer him towards an organization like SONH. But beyond that, Townsend says that he has always loved the water. "Oceans, lakes, frozen lakes, creeks, pools, hot tubs… if there is water, I get in it" he says.
Townsend also enjoys ice-fishing and recently made a "practice plunge" while on a fishing trip. See the video on our YouTube Channel here. He's plunging on his own this year and has already surpassed his fundraising goal of $6,000.00 making him well-positioned on our Leaderboard. Roth Townsend's fundraising page for the 2022 Survivor Penguin Plunge is here.
2022 marks his 5th year plunging for SONH. Raising funds for a great cause that is close to his heart is important to Townsend. But he also says, "I love a good party!"
The 2022 Survivor Penguin Plunge promises to be just that.