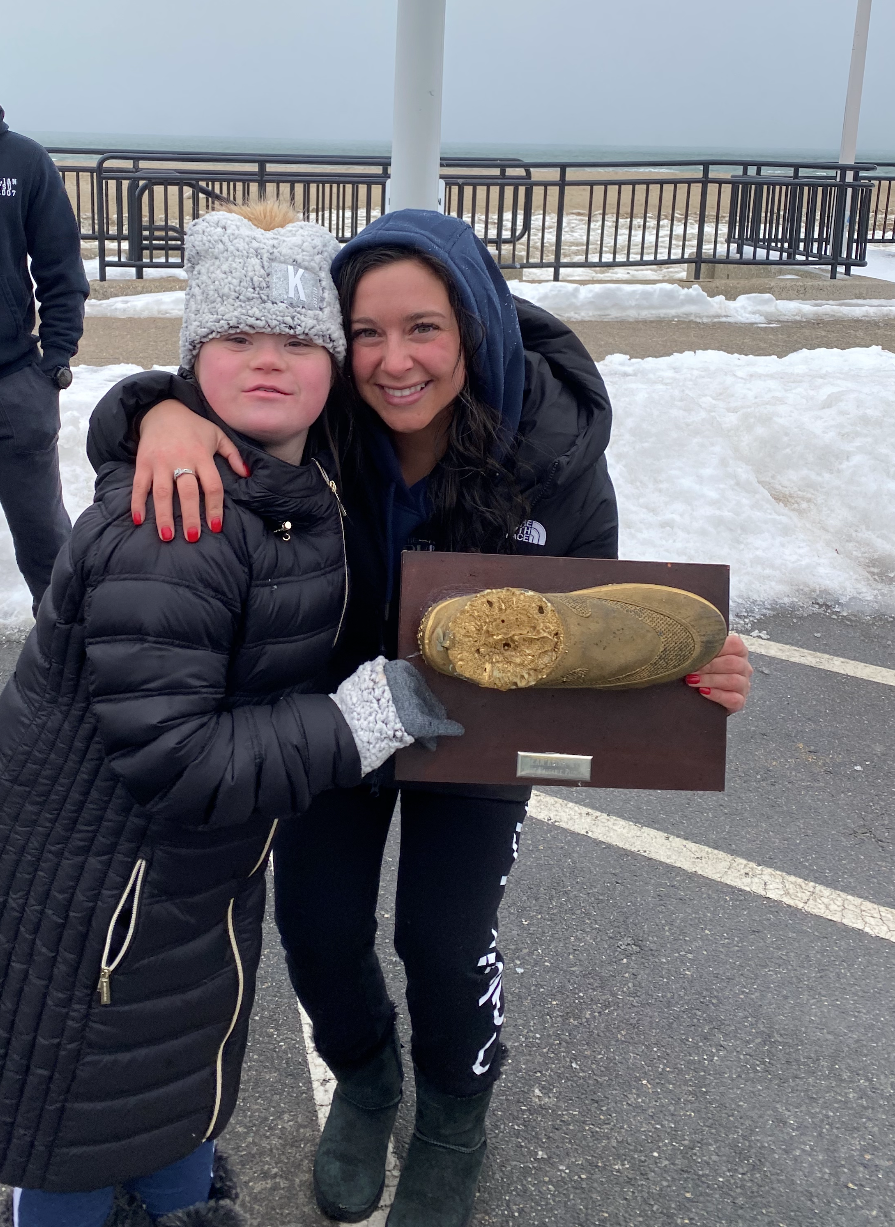 The Story of the Bronze Shoe
Team Keira will be making their 14th Penguin Plunge in 2022. The team is named for SONH athlete Keira Callahan, and the team captain is her dad, Paul. Team Keira has existed nearly as long as Keira has been alive.
It was 2008 when Paul and his wife Stephanie welcomed Keira into the world and Keira was born with an intellectual disability. Both of her parents had been involved in athletics growing up and had a keen awareness of the power of sport and the positive impact it can have on a child.
"We knew right away we wanted to be involved with Special Olympics. We started our journey with the Plunge and the Torch Run" he says. Paul is a police detective and his wife works with crime victims at one of New Hampshire's county attorney offices.
Keira was still in diapers when Team Keira made their first plunge in 2009. The team has plunged every year since and are preparing for their 14th in 2022. Callahan says, "although some of the faces on Team Keira have changed throughout the years we strive to raise as much as we can." The team is currently making a strong showing on the Penguin Plunge Leaderboard.
Sports started at an early age for Keira according to her proud-with-good-reason dad. "Once Keira was old enough to start participating in sports, we got her started with soccer, basketball, and track and field. She also is on her school cheer team at Woodbury Middle School in Salem." Callahan says Keira is an outgoing girl despite having undergone several surgical procedures. Many of those surgeries were hip-related and according to her dad, athletics has helped Keira with the rehab process.
Whatever adversity Keira has faced, she always looks forward to being back with her teammates and coaches. Callahan notes "My wife and I have definitely seen the positive impact we were hoping for from her involvement with Special Olympics New Hampshire."
Team Keira has been around long enough to have many familiar faces each year, their own traditions and even their own trophy. It's the MVP (Most Valuable Plunger) award. It's not exactly the Stanley Cup. In fact, it's a shoe. An old shoe. It happened in the early years of the team and Callahan explains "One of the Team Keira teammates lost one of his water shoes while plunging. When he returned to the tent, we laughed about it and joked about bronzing the one shoe he had left."
The shoe wasn't so much bronzed as it was spray painted gold and mounted on a wooden base. Each year Keira and her dad choose an MVP who proudly displays the trophy for a year and pledges to return with the trophy to plunge again the following year.
Exactly how long the tradition has been going on is lost to history. It's a history that's still being made every year.
Donations can be made to Team Keira here.