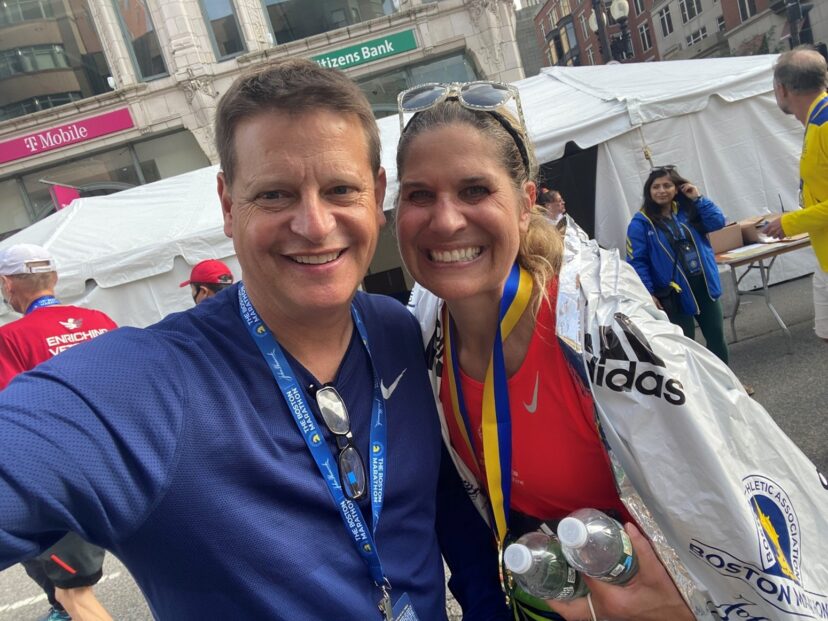 WMUR-TV News Director Running Again for Special Olympics
Concord, NH (February 23, 2022) – After last year's temporary move to October, the Boston Marathon will return to the traditional Massachusetts Patriots' Day holiday in 2022. The 126th running of the Boston Marathon is scheduled for Monday, April 18th.
WMUR-TV News Director Alisha McDevitt will once again take on the historic 26.2 mile course as a fundraiser for the athletes and programs of Special Olympics New Hampshire (SONH). This will be the fourth time McDevitt has made her run for SONH. She started running in 2017 and ran her first Boston Marathon in 2019 with her WMUR colleague Sports Director Jamie Staton. She completed the virtual Boston Marathon run in 2020 and ran last-year's Boston Marathon in-person with a time of 4 hours, 23 minutes and 48 seconds.
McDevitt acknowledges how challenging the pandemic has been for SONH athletes, saying "I understand the last two years have been difficult for programs like SONH that haven't been able to train and compete in the usual way. I hope seeing my journey gives New Hampshire's athletes hope that you can still train even if it's in a different way." She admits that the training required for a full marathon run is challenging but considers it an honor to run for the athletes of SONH saying "Seeing what SONH athletes do is inspiring. I couldn't ask for anything more."
WMUR Sports Director Jamie Staton is happy to cheer on his co-worker: "Alisha is already over one month into her training, and she is nailing it! She takes great pride in representing SONH on such a big stage. Marathon Monday is going to be a great day for her and the athletes of SONH!"
Staton himself has run the Boston Marathon six times, four of which were fundraisers for SONH. Jamie Staton and Alisha McDevitt have raised a combined total of more than $78,000 for Special Olympics New Hampshire.
Alisha McDevitt's fundraising page is here and can be accessed online at www.sonh.org. Her fundraising goal in 2022 is $10,000. SONH VP of Development Carol Cray notes that "funds raised through Alisha's efforts will go towards programs for our athletes here in New Hampshire. Many of our programs have been conducted online as our athletes continue to train looking ahead to the eventual return to in-person practice and competition."
McDevitt is a graduate of UNH. She began her broadcasting career with WMUR in 1995 as a news producer and was named News Director in 2009. She has won numerous honors including a New England Emmy Award and the prestigious Edward R. Murrow Award. In 2019 the New Hampshire Association of Broadcasters named her "Broadcaster of the Year".
The 126th running of the Boston Marathon is scheduled for Monday, April 18th. Additional information can be found here