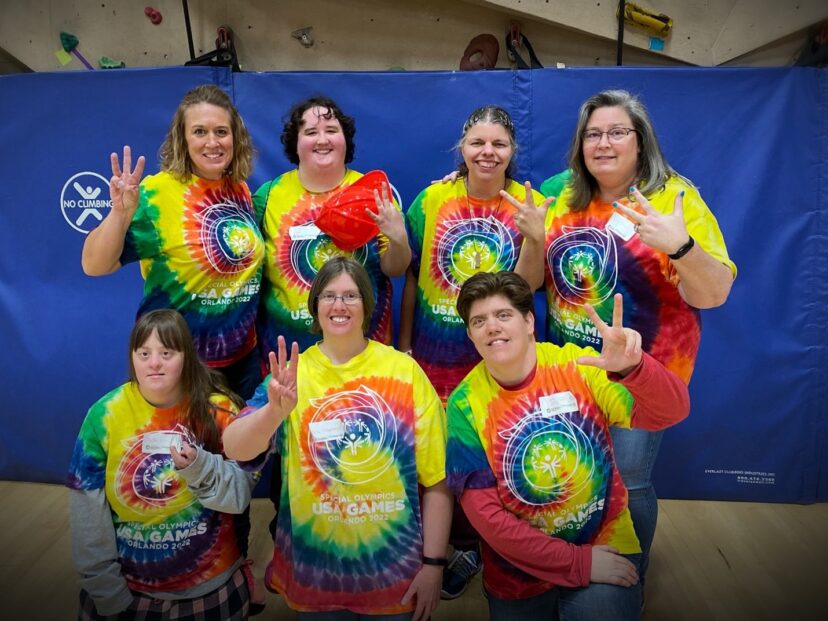 Team NH 3v3 Basketball is a Historic First for SONH
The 3v3 basketball team representing the Granite State in Orlando is Special Olympics New Hampshire's first-ever all female team to compete on a national level at the USA Games. Team members Alicia Chapman, Ellie Coe, Julia Gray, Pam Langille and Becky May are excited and proud to be members of this historic team.
We have been following their Road to the Games.
Head Coach Kelly Trudel beams about the spirit of her team. Trudel and Coach Melissa Drew hold practices for the quintet every weekend. A feat that demonstrates this team's spirit and determination. The five teammates hail from Campton, Concord, Contoocook, Keene and Milan. That's five towns in four different counties with no real central connection.
Trudel says that they have rotated the practice between a couple of locations to make travel easier for the group but with each practice, it's still a significant trip for everyone. With some teammates having to drive for hours to get to practice it's no surprise that these ladies came to play and are eager to compete as a team in June.
The pandemic has impacted training for all of Team New Hampshire. In the case of the 3v3 team they trained on their own after being chosen for the team and held their first ten team meetings on video calls. "We started having our weekly Zooms, they were Sunday night and we all looked forward to them" according to Trudel. "We really loved our time together and would celebrate someone's birthday or a holiday, we really made the best of getting to know each other whether digitally or in-person" she notes.
Kelly Trudel enjoys and values the dynamic each team members brings to the team. "Julia Gray is a very quiet young lady but is dynamite on the court. Becky May is the most positive person I've ever met. Every day is the best day of her life" she continues. "Pam Langille is a great leader on the sidelines and on the court. Ellie Coe is a superstar, she's wonderful at running plays. Alicia Chapman really blossoms on a team and gets caught up in the excitement of being part of a team."
SONH athlete Ellie Coe is part of this history-making roundball team. She says that their training regimen is really paying off. "We've learned how to actually play together and communicate on the court" she says. The team will continue to train right up until they head to Florida, "our stamina has gotten better" she adds.
According to Coe, the best part of training has been "becoming closer to my teammates because I just love them so much" she says with a little giggle. What about that historic first ever all-female team status? She says "My uncle is coming with my two little cousins and I told them to make signs that say "Girl Power". I think it's really cool that we're all women and all really strong."
Pictured above: Standing L-R: Head Coach Kelly Trudel, Ellie Coe, Becky May, Coach Melissa Drew. Kneeling L-R: Julia Gray, Alicia Chapman, Pam Langille