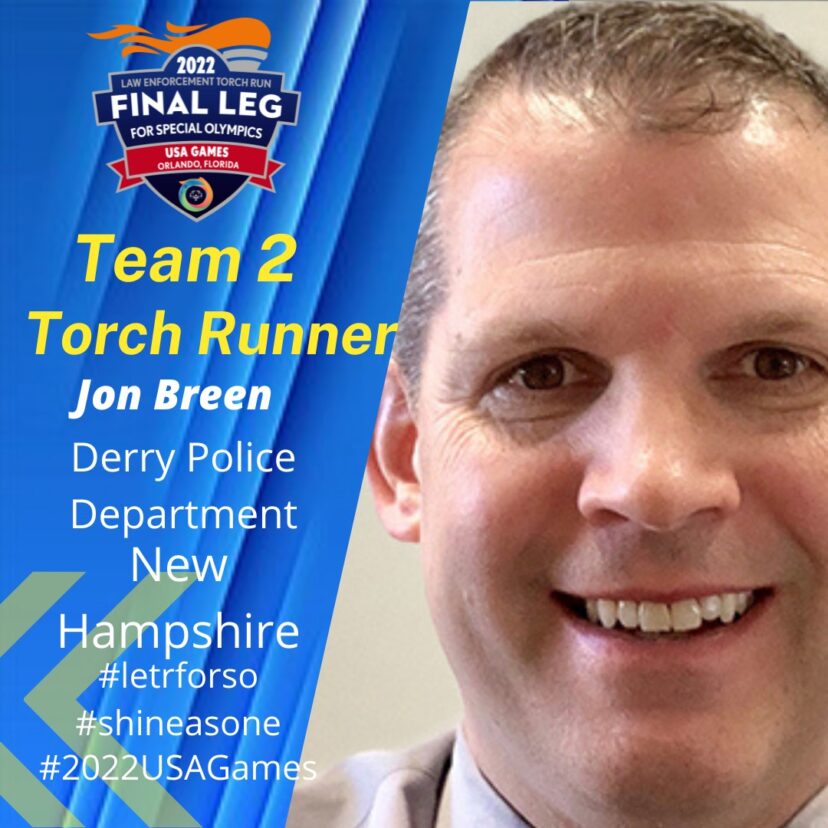 Derry Police Lieutenant Ready to Run Final Leg to USA Games
You first read about Detective Lieutenant Jon Breen of the Derry Police Force back in March here. Jon has participated in every New Hampshire Law Enforcement Torch Run (LETR) since 1998 and was chosen earlier this year to be Team New Hampshire's LETR Final Leg runner for 2022 USA Games in Orlando, FL.
Now just days away from that event it's all getting very real for Breen.
Law Enforcement professionals from all 50 states will be broken into six different teams traversing either Florida's east coast or west coast. They will start their journey on Tuesday, May 31st concluding their relay runs at Exploria Stadium in Orlando at the Opening Ceremonies on June 5th.
Breen's team includes officers from Connecticut, New Mexico, Washington State, Kentucky, Indiana, North Carolina and Utah. His team will also include a Special Olympics athlete from Southern California.
The team will be traversing Florida's east coast. Their route starts in Miami and will take them through Fort Lauderdale, Daytona, Saint Augustine, Jacksonville and then back to Orlando. Each day's segment of running will be between three and ten miles. Along the way there will be stops at the Speedway in Daytona as well as Cape Canaveral.
At each stop there will be a short speech by one of the officers as well as the athlete that will be running with them. Luck of the draw put Derry's Jon Breen at the front of the pack with the very first speech on the very first day of the torch run. Jon will be speaking at the Hard Rock Stadium, the home of the Miami Dolphins, to kick off the run.
He's looking forward to supporting Team New Hampshire and having the opportunity to talk with other law enforcement personnel about their Torch Runs. He's also hoping to hear about interesting partnerships and opportunities between law enforcement and Special Olympics in other states.
Exciting details for the 2022 USA Games are slowly being released, to build anticipation! USA Games organizing committee has announced that Sara Bareilles will be performing with more details to come soon. Jon putting his trust in the house of the mouse saying, "With Disney involved you know it's going to be on a grand scale, I can't wait to see how it unfolds and represent New Hampshire!"