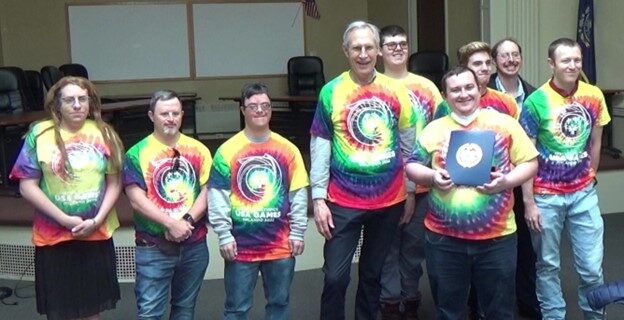 Jesse Covill Transitions from Athlete to Coach
Jesse Covill first became an athlete with SONH in 2010 and bowling was his introduction to Special Olympics. He smiles when he says that at some point, he's tried most every sport offered by SONH.
While he has great memories of participating in cross-country skiing, athletics, golf, snowshoeing and other sports, "basketball and softball were my favorites because I love active team sports" he says. Basketball may have been inevitable for Covill since it's a game he played as a child prior to coming to SONH.
He was proud to be a member of New Hampshire playing basketball at the 2014 USA Games in New Jersey. He's even more proud of the fact that they brought home the gold winning against a formidable Team Texas.
Fast forward to the State Summer Games in 2018. Covill is a volunteer at those Summer Games and begins to see a new perspective on sports. He starts to see competition differently if he's not actively competing. He sees an opportunity to help athletes learn, grow and compete… and he likes it.
He credits SONH coach Diane Hammett as his inspiration to coach others. He considers her a great coach and someone who has been extremely helpful to him over the years. In 2021 when tryouts for the USA Games were announced Jesse was considering trying to make the Softball team. He called Coach Diane and talked with her about the possibility of him becoming a coach. "I wanted to challenge myself and prove to other athletes that we can become coaches" he says. With encouragement from his mentor, Jesse applied to be a coach.
Prior to the 2014 USA Games, Coach Diane who set up a visit to Nashua City Hall to visit with the mayor. That trip was the blueprint for April 29th, 2022, and Team New Hampshire Day in Nashua, New Hampshire.
There are nine athletes from Nashua slated to go to Orlando for the 2022 USA Games. Jesse Covill who also hails from Nashua will be coaching 5v5 Basketball in Orlando. Covill, along with his friend Laurie Galbott, arranged the meeting with Mayor Jim Donchess.
The mayor talked with the athletes about sports, and their upcoming trip and then proclaimed the day to be "Team New Hampshire Day" in the city of Nashua. The athletes presented the mayor with his own Team New Hampshire shirt.
There are 1,111 coaches registered for the USA Games event and Coach Jesse is among 27 coaches who are former athletes.
Pictured Above L-R: Gabrielle Hall, Isaac Hartigan, Scott Justason, Mayor Donchess, Martin Moran, Jesse Covill, Trevor Lavalla, Chris O'Neil, Thomas Cantara