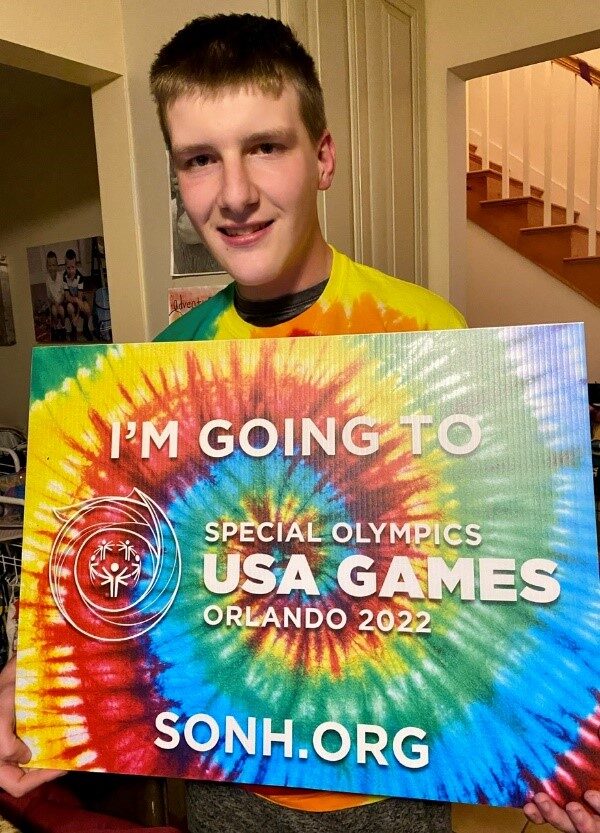 Cole Struble – Golfing Nearly His Entire Life
Rye, New Hampshire is a coastal community that is home to Team New Hampshire golfer Cole Struble and the Wentworth by the Sea Country Club. One of the state's top golf courses.
Cole started golfing when he was three years old. It would be years before he discovers Special Olympics New Hampshire. Cole began his journey with Special Olympics in high school, participating in Unified Soccer and bowling. Cole's mother, Julie Struble says, that a mailer came to the house about the SONH State Golf Tournament. That one piece of mail turned out to be "life-changing" for Cole
Cole's golf experience with SONH paved the way for him trying out for the Portsmouth High School Golf Team. A team he is now a proud member of.
Cole's focus has been training for the upcoming 2022 Special Olympics USA Games. In doing so, Cole even scored his first-ever hole-in-one at the Wentworth Country Club in March of this year. He and his golf teammates Lauren Costa and Kay Ryan are looking forward to the opportunity to play at the Orange County National Golf Center in Orlando and represent the Granite State nationally. At 17 years old, Cole is the team's youngest golfer.
Recently Julie Struble spoke to the Special Olympics New Hampshire Board of Directors about the impact SONH has had on her son's life… and her own.