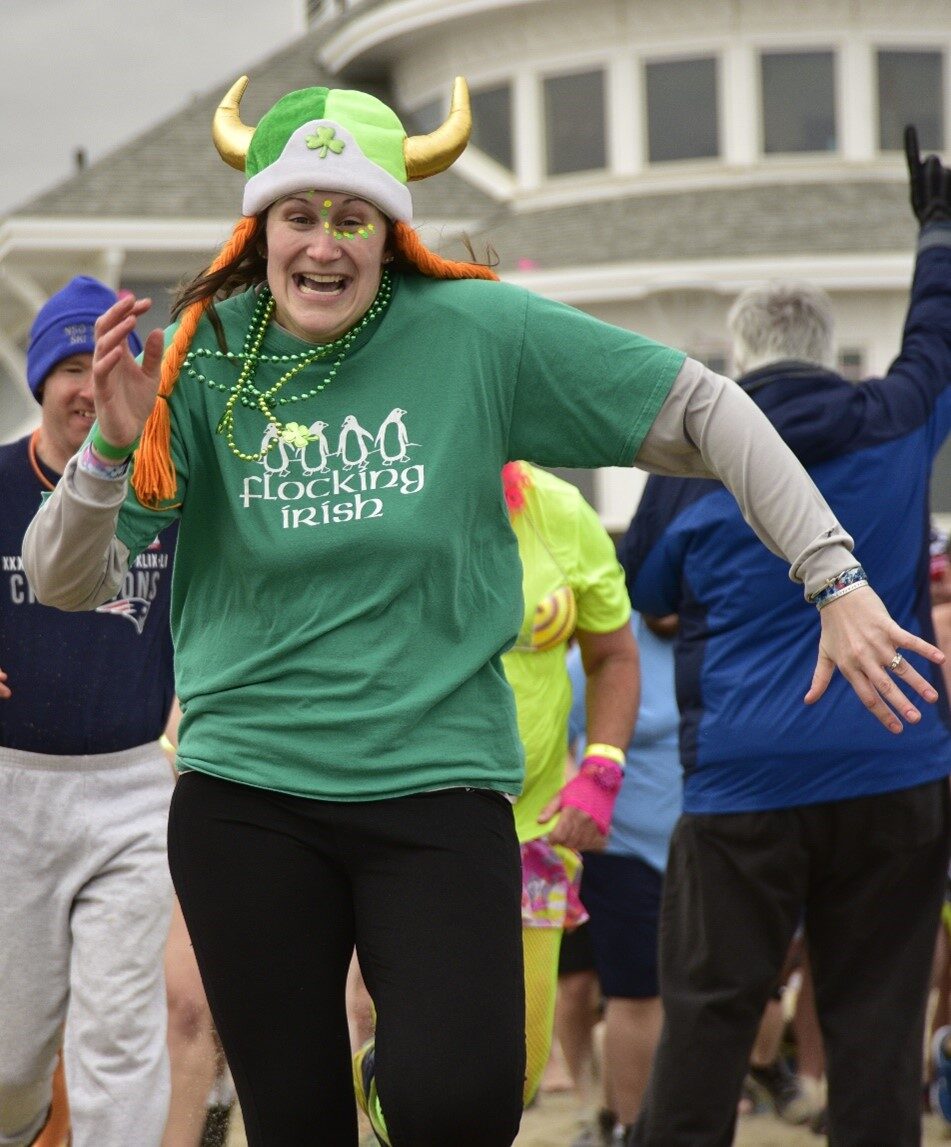 Longtime Volunteer & Plunger Katie Closs To Run Chicago Marathon for SONH
Katie Closs is an assistant principal at Nashua North High School. She has been a supporter of Special Olympics New Hampshire since her first Penguin Plunge back in 2004 and beyond as part of the "Flocking Irish" plunge flock. Her history with SONH includes being a Unified Partner in various sports, and has volunteered for many SONH competitions
Katie has a history of running small races and participating in various sports. She did not run her first marathon until 2018 and that was in Boston. No, it wasn't that marathon in Boston but rather a benefit marathon for Boston Children's Hospital. In addition to the Boston Children's Hospital marathon Katies has participated in the New York Marathon as well as marathon in Derry this past April.
On Sunday, October 9th, 2022, Katie will be in Chicago running the Chicago Marathon. Based on number of finishers, it is the fourth largest marathon on the planet. Katie is running the marathon as a fundraiser for Special Olympics New Hampshire. She calls herself a "very respectable 4 hour and 30-minute marathon runner" and is looking forward to the Windy City classic "I know it's flat, which I'm very excited about" she says.
Huge doesn't even begin to describe this event. In 2019 there were nearly 46,000 participants. For comparison purposes, the pre-pandemic 2019 number for the Boston Marathon was 30,234. Katie has set a goal of $2,500.00 and is currently fundraising on the SONH website here.
To bolster her online donations, she posted on social media that if she could get to $500 in donations by this weekend, she would do her Sunday morning training run in Merrimack in a banana costume. Not to be excluded from a good time, or from an SONH fundraiser, her father wanted to up that total to $650 and pledged to join daughter Katie on her route riding a bicycle while wearing a strawberry costume.
Her father is also a fellow plunger and member of the Flocking Irish plunge group and have collected many different Penguin Plunge costumes over the years!
She has already exceeded that $650 figure in donations and plans to hit the streets of Merrimack in full banana garb this Sunday, July 24th. She'll be running early Sunday morning in the Woodland Park area to Daniel Webster Highway. The giant bike-riding strawberry following her will be her dad John Diggins. Beyond this weekend, Katie has a goal of $2,500.00 that she would like to hit by October.
Katie has never visited Chicago before but believes that the best way to get to know a place "is to run it."
Picture: Katie Closs at the 2018 Penguin Plunge at Hampton Beach