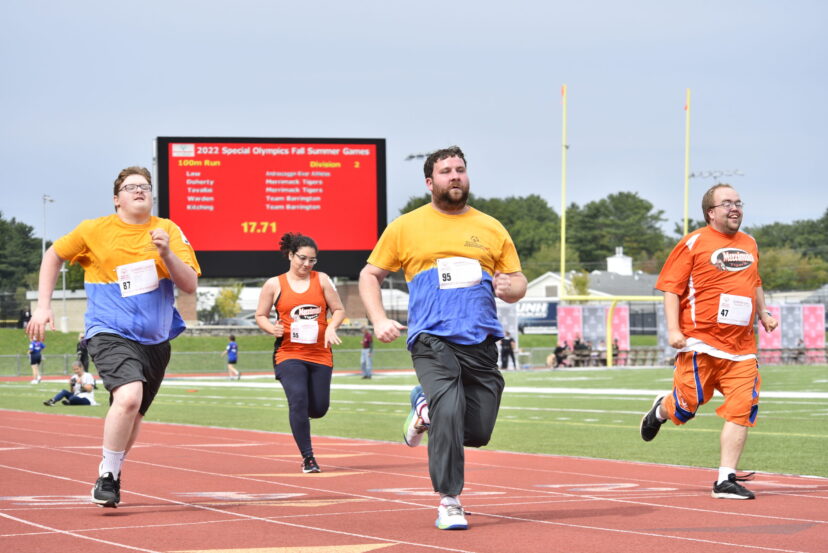 State Summer Games Makes Its Triumphant Return!
Sunday brought athletes back to Wildcat Stadium at UNH in Durham for the first time since 2019. Unofficially dubbed the "Fall-Summer Games" the event centered on competition in Track & Field and Bocce.
Athletes and volunteers started the day with breakfast provided by McDonald's (The Napoli Group) and spent the morning competing and, in many cases, seeing friends and teammates in-person for the first time in months or more. Associated Grocers of New England provided lunch. AGNE's Eric Tinker is the Chair of the SONH Board of Directors and was chief cook for the day.
"We're so proud of all the athletes who competed this weekend at UNH. They each brought their best to the competition and cheered each other on," said Tinker. "They showed the coaches, volunteers and spectators that the spirit of Special Olympics continues to be strong in New Hampshire" he continued.
Bottled water and other beverages for the day were provided by Coca-Cola Beverages Northeast. Mike Elmer with Coca-Cola Beverages was volunteering for the day along with several other CCNE employees and he stated "We are fortunate to have so many associates who jump at the chance to support Special Olympics New Hampshire. I think our associates were just as excited as the athletes to return to competition. We had a great day and look forward to being there again in the future!"
Goffstown School Resource Police Officer Emily Crosby mobilized law enforcement to present medals at the day-long event. In addition to Goffstown there were officers presenting from Concord, Durham, Newington and Salem police departments. The Hillsborough County Sheriff's Office was presenting along with the New Hampshire Fire Marshals' Office, New Hampshire Fish & Game and New Hampshire State Police.
Lieutenant Jon Breen of the Derry Police Department accompanied Team New Hampshire to the USA Games in Florida in June of this year. He was one of the officers presenting medals for the day at UNH saying, "It's great to see the athletes' faces, seeing some athletes I haven't seen in a long time, to be able to award them medals and watch them compete and push themselves to new levels."
A make-your-own taco bar and dance was scheduled for 3:00 pm, which is about the same time the rain started. Many attendees made their tacos "to-go" and headed home after a great day of competition back at UNH.