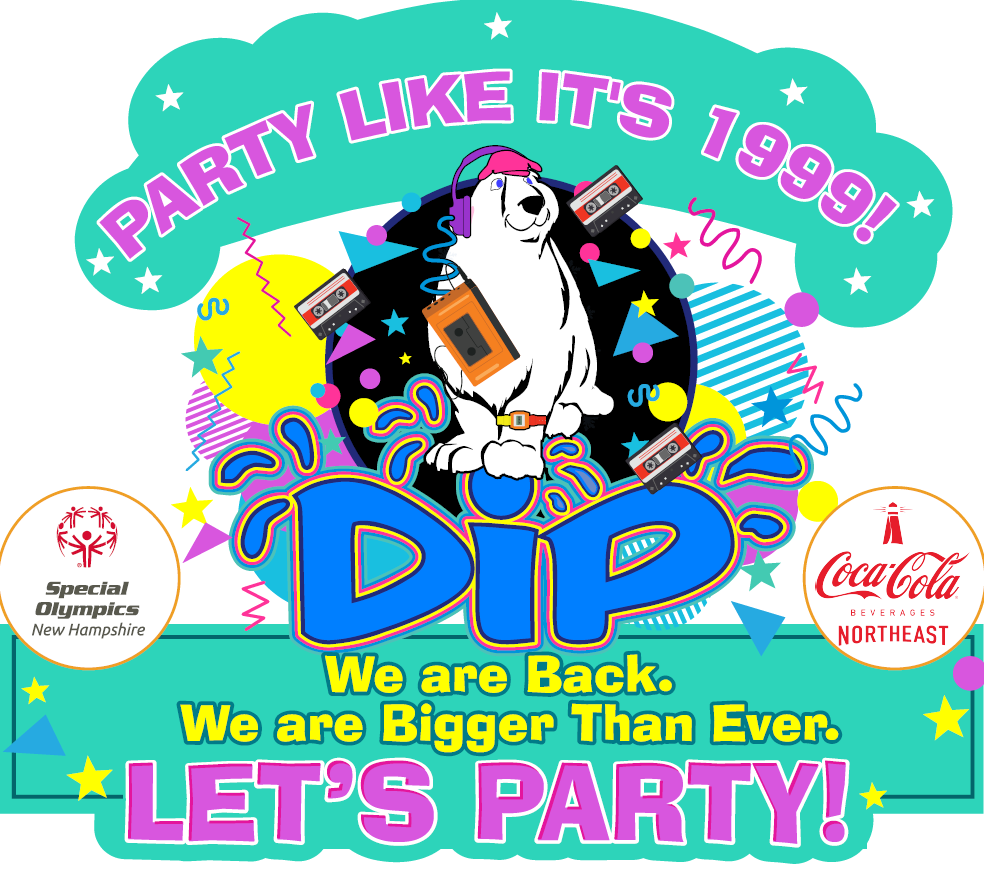 Winni Dip Fundraiser Returns To Lake Winnipesaukee
March 10, 11 and 12
Concord, NH (March 3, 2023) – It's "Back to the Big Lake" for the 2023 Winni Dip events to benefit Special Olympics New Hampshire (SONH). The fundraisers have been "Do-It-Yourself" events for the past two years and will be returning to the Margate Resort in Laconia in a new three-day format.
Friday, March 10th will bring the High School Dip and Middle School Dip back to the Margate. The school-based events are open to students as well as school faculty and staff throughout New Hampshire. Saturday is reserved for the Law Enforcement Dip open to police officers and other public safety personnel. The 2023 Winni Dip on Sunday, March 12th is open to all ages 15 and up. For the hearty dipper seeking a challenge there is also the MEGA Dip consisting of one dip-per hour for 24 consecutive hours across the weekend.
The theme for all of this year's Winni Dip events is "Party Like It's 1999".
Given the success of the "D-I-Y" version of these events in both 2021 and 2022, that version of the fundraiser remains an option to participants. Most fundraising is done online at the SONH website and via each dipper's existing social media. This allows most people to reach their fundraising minimums in as quick as just two or three days. Registration is open now at www.SONH.org. Participants choose which event they want to take part in and whether they will be doing so in-person at the Margate or utilizing the "D-I-Y" option. Those opting for the latter will receive their very own "Party Pail" delivered to their home ahead of the Winni Dip weekend.
"The Winni Dip events are companion pieces to February's Penguin Plunge event in Hampton. Given the success of that weekend, we're really excited to see everyone back at the Margate," said SONH President and CEO Mary Conroy. "These fundraisers are more important than ever as our athletes return to a full schedule of in-person regional and state competitions for the first time in more than two years." she continued.
Funds raised from the Winni Dip events will go towards athlete training and upcoming competitions like the State Basketball Tournament in April, several regional competitions in May, the State Summer Games at UNH in June and more. All funds raised from the Winni Dip stay in the Granite State.
Those joining in-person at the Margate enjoy a pre-dip party and costume contest as well as a post-dip awards ceremony. Dippers doing the D-I-Y Dip are asked to always keep safety in mind. Pictures or video should be posted to social media using #sonhdip.
More info about all events can be found at www.SONH.org. More information about Coca-Cola Beverages Northeast can be found at www.cokenortheast.com/.
About Special Olympics New Hampshire
Special Olympics New Hampshire (SONH) is an accredited program of Special Olympics International (SOI) and is part of an international global movement that unleashes the human spirit through the transformative power and joy of sports, every day around the world. We empower people with intellectual disabilities to become accepted and valued members of their communities, which leads to a more respectful and inclusive society for all. Using sports as the catalyst and programming around health and education, Special Olympics is fighting inactivity, injustice and intolerance.
FOR IMMEDIATE RELEASE
Contact: Mark Ericson
603-624-1250 Ext. 22
MarkE@sonh.org