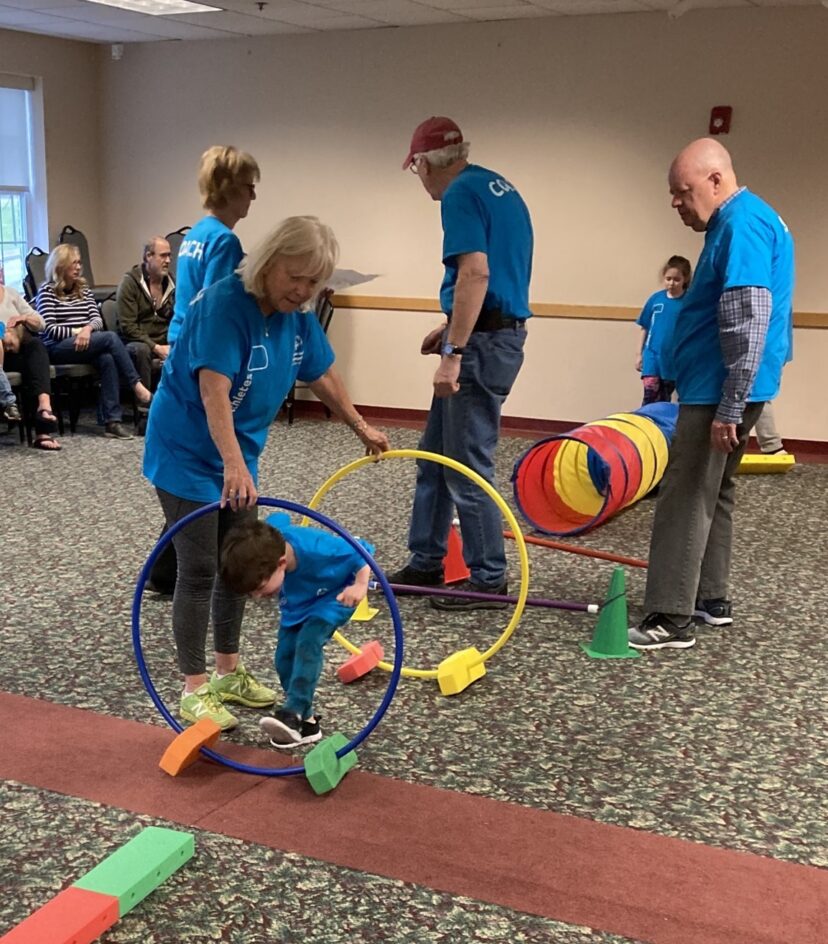 Where Tomorrow's SONH Athletes Are Coming From

The Special Olympics Young Athletes Program is designed for children with and without intellectual disabilities between the ages of two and seven years old. It is a program that accomplishes many things in a brief period of time.
In New Hampshire, there are several programs around the state. Bill Jones is a long-time SONH volunteer, past member of the SONH board and Winter Water Sport fundraiser. Many people know Bill Jones only by his caped alter-ego "Captain Plunger", a now retired Penguin Plunger. Jones also runs the Manchester Young Athletes Program for SONH.
Bill also assists other Young Athletes Programs around the state both to help them get started and offer bits of advice along the way. Typically, the program runs in 8-week sessions from October through May. It happens at local locations, usually a school gym or similar large space.
During the once a week, 60 minute Young Athletes session, offers a combination of children with and without ID has many positive effects. Those with ID learn some basic social skills while kids without ID learn inclusion. Many parents have found that within their own family the Young Athletes Program can teach siblings with and without ID better ways to understand each other. The structure starts week one with Foundational Skills. The children are in an unfamiliar environment around new people. "We go very, very easy the first week and pick exercises that are simple and easy to do" Jones says.
Week two takes it to the next logical step. Basic instructions like walking with "Big Feet" stomping their feet as they walk. When asked the kids will step lightly using their "Tiny Feet". Jones notes that asking a child between two and seven to walk backwards may be a first-time request for the child and may not be as easy as it sounds.
Week three is when things are getting more serious. Balancing, running, jumping, obstacle courses and more. The instructions are a little more intricate. A casual observer might think this simple playtime, but the children are learning social skills, following direction and instruction and loads of physical activity.
The health aspects of the Young Athletes Program are myriad. Jones is particularly proud of the moment when a participant' parents came to him to tell him that in addition to the Young Athletes Program, their child had been attending private physical therapy each week. Following the third week attending Young Athletes they discontinued their child's physical therapy, noting that the child was getting more out of the group gathering and working harder than she did during the private sessions. It makes perfect sense to Jones who notes "In the physical therapist's office it's one-on-one. You're being asked to do an exercise and repeat it. When you're doing the stuff with us it's fun. You're doing it with all the other kids, they are the same activities in a fun environment and the kids don't even realize they are doing healthy physical activities."
Bill Jones has been working with children in the Young Athletes Program since 2018. His favorite moments include singing the "name" song. The children sit in a circle and Bill or another coach sing "I wonder what your name is, I wonder if you know, hello my name is," and the child yells their name.
"We've had children who would not sing their name or say their name week after week. All of a sudden one week, boom! Out comes their name." Jones says it can be a powerful moment for the child and their parents.
Parents tend to praise the program for the physical, cognitive and social aspects of the Young Athletes Program. If you would like to get more information about the Special Olympics Young Athletes Program, send an email to SpecialOlympics@sonh.org.