History
---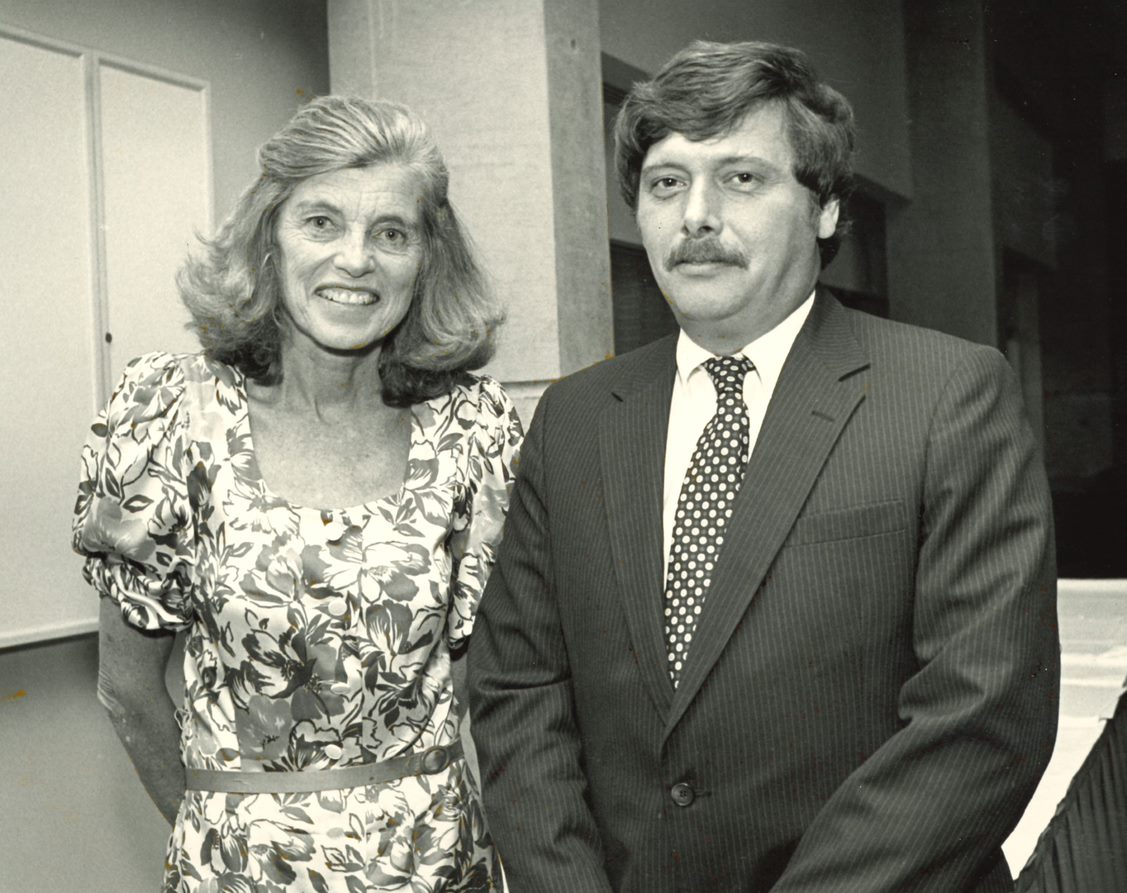 It all began in the 1950s and early 1960s, when Eunice Kennedy Shriver saw how unjustly and unfairly people with intellectual disabilities were treated. She also saw that many children with intellectual disabilities didn't even have a place to play. She decided to take action.

Soon, Eunice Kennedy Shriver's vision began to take shape. She held a summer day camp for young people with intellectual disabilities in her own backyard. The goal was to learn what these children could do in sports and other activities – and not dwell on what they could not do.
Throughout the 1960s, Eunice Kennedy Shriver continued her pioneering work. She was the driving force behind President John F. Kennedy's White House panel on people with ID. She directed the Joseph P. Kennedy Jr. Foundation. Her vision and drive for justice grew into the Special Olympics movement.
The first International Special Olympics Summer Games are held at Soldier Field in Chicago — a joint venture between the Kennedy Foundation and the Chicago Park District. The advisory committee to the Chicago Special Olympics includes Dr. William Freeberg, Southern Illinois University; Dr. Frank J. Hayden, Joseph P. Kennedy Jr. Foundation; Dr. Arthur Peavy; William McFetridge, Anne McGlone Burke and Stephen Kelly of the Chicago Park District; and Olympic decathlon champion Rafer Johnson. Eunice Kennedy Shriver is honorary chairman. Dr. Hayden was also executive director of the games.
In August of 1968, Special Olympics is officially incorporated.  Special Olympics New Hampshire's history began at those first games in 1968.  A timeline of important milestones in New Hampshire's history is outlined below:
1968
Six young men, who were residents of Laconia State School, traveled with two Recreation Department staff members to Chicago to participate in the very first Special Olympics World Games
1970
Mrs. Jean Tufts organizes the 1st Annual Special Olympics New Hampshire State Summer Games at Phillips Exeter Academy
New Hampshire attends the Special Olympics World Games in Chicago, Illinois
1972
Special Olympics New Hampshire (SONH) is incorporated as a 501(c)(3) nonprofit organization
The State Summer Games moves to Plymouth State College
New Hampshire attends the Special Olympics World Games in Los Angeles, California
1973
The State Summer Games moves to Keene State College
1974
The State Summer Games moves to Gill Stadium in Manchester
1975
Fred Toll is hired as the first paid Executive Director of SONH.
New Hampshire attends the Special Olympics World Games in Mount Pleasant, Michigan
1976
The State Summer Games moves to the University of New Hampshire
Coca-Cola begins its partnership with SONH
1977
The 1st Annual State Winter Games take place at Eastman in Grantham
New Hampshire attends the Special Olympics World Games in Steamboat Springs, Colorado
1978
The State Winter Games moves to Gunstock
McDonald's – the Napoli Group begins its partnership with SONH
1979
New Hampshire attends the Special Olympics World Games in Brockport, New York
1980
The State Winter Games move to Bretton Woods
1981
New Hampshire attends the Special Olympics World Games in Stowe, Vermont
1983
The 1st Annual State Basketball Tournament takes place in Salem
New Hampshire attends the Special Olympics World Games in Baton Rouge, Louisiana
Tom O'Brien is hired as SONH's first full-time program staff person
SONH has its first office on Union Avenue in Laconia
1985
Chief Stan Stevens (ret.) of Wolfeboro brings the idea of the Law Enforcement Torch Run to New Hampshire
New Hampshire attends the Special Olympics World Games in Park City, Utah
1986
SONH moves its office to Concord
Mike Quinn is hired as SONH's second Executive Director
Associated Grocers (IGA/Wetterau/SuperValu) begins its partnership with SONH
1987
New Hampshire attends the Special Olympics World Games in South Bend, Indiana
1989
SONH offers Unified Sports® where people with and without intellectual disabilities compete together as teammates
New Hampshire attends the Special Olympics World Games in Lake Tahoe, Nevada
Marshall Tent and Event Rental begins its partnership with SONH
1991
New Hampshire attends the Special Olympics World Games in Minneapolis & St. Paul, Minnesota
1992
The 1st Annual State Fall Games take place as St Paul's School in Concord
1993
SONH moves its office to Manchester
New Hampshire attends the Special Olympics World Games in Salzburg & Schladming, Austria
1995
The State Winter Games move to Waterville Valley
New Hampshire attends the Special Olympics World Games in New Haven, Connecticut
1996
The Athlete Leadership Program is introduced
Special Olympics receives the Walter J Dunphy Excellence in Management Award
1997
Fleet Bank begins the M&M Fundraiser
New Hampshire attends the Special Olympics World Games in Toronto, Canada
1998
SONH Athlete Robert Plant becomes the 1st athlete to be certified as a sport official (golf) by the sport's National Governing Body (USGA)
Scott Sargent becomes the 1st athlete elected to the SONH Board of Director's
1999
Circle K (Irving Oil) begins Fueling Dreams promotion
New Hampshire attends the Special Olympics World Games in Raleigh, North Carolina
2000
The 1st Annual Penguin Plunge takes place at Hampton Beach
2001
New Hampshire attends the Special Olympics World Games in Anchorage, Alaska
2002
The Law Enforcement Torch Run exceeds $1 million cumulative dollars raised
The 1st New Hampshire Association of Chiefs of Police Golf Tournament takes place
2003
Healthy Athletes screenings are offered for the first time at Summer Games
New Hampshire attends the Special Olympics World Games in Dublin, Ireland
2005
The Penguin Plunge exceeds $1 million cumulative dollars raised
New Hampshire attends the Special Olympics World Games in Nagano, Japan
2006
Team NH attends Special Olympics USA Games in Iowa
2007
New Hampshire attends the Special Olympics World Games in Shanghai, China
2008
Unified Champion Schools (formerly Project UNIFY) begins in New Hampshire
Young Athletes® programming is offered in New Hampshire
2009
The 1st Winni Dip takes place at Lake Winnipesaukee
The 1st High School Plunge takes place at Hampton Beach
Mary Conroy is hired as SONH's third Executive Director
New Hampshire attends the Special Olympics World Games in Boise, Idaho
2010
NH Interscholastic Athletic Association and SONH offer 1st Unified Sports Event for sanctioned schools
Team NH attends Special Olympics USA Games in Nebraska
New Hampshire attends the Athlete Global Congress in Morocco
2011
New Hampshire attends the Special Olympics World Games in Athens, Greece
2013
The 1st Cool School Dip takes place at Lake Winnipesaukee
New Hampshire attends the Special Olympics World Games in Pyeongchang, South Korea
2014
Team NH attends Special Olympics USA Games in New Jersey
New Hampshire athlete Pam Langille is selected to serve a four-year term as a Sargent Shriver International Global Messenger
2015
The 1st Prep School Plunge takes place at Lake Winnipesaukee
New Hampshire attends the Special Olympics World Games in Los Angeles, CA
2016
The High School Plunge exceeds $1 million cumulative dollars raised
2017
The Law Enforcement Torch Run exceeds $5 million cumulative dollars raised
New Hampshire attends the Special Olympics World Games in Graz & Schladming, Austria
2018
Team NH attends USA Games in Seattle, WA
2019
New Hampshire attends the Special Olympics World Games in Abu Dhabi, UAE
2020 (March)
In-person events suspended due to world-wide COVID-19 pandemic
2022
Team NH attends USA Games in Orlando, FL